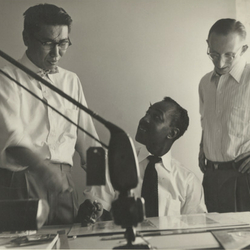 When: Thursday, November 1, 2018
6:00 PM - 7:30 PM CT
Where: Block Museum of Art, Mary and Leigh, 40 Arts Circle Drive, Evanston, IL 60208 Evanston map it
Audience: Faculty/Staff - Student - Public - Post Docs/Docs - Graduate Students
Cost: Free and open to All
Contact: Block Museum of Art (847) 491-4000

Group: Block Museum of Art
Category: Multicultural & Diversity
Description:
Using the uniquely cosmopolitan space of the Goldsholl studio as a point of departure—including the long-term position of African-American designer Thomas Miller at the firm—this conversation will address issues of authorship, representation, and racial inclusion (or lack thereof) in mid-century design and advertising workplaces in the 1950s and 1960s. Daniel Schulman, Director of Visual Art, Department of Cultural Affairs and Special Events, City of Chicago, will address Tom Miller's legacy as a designer and his role in the Goldsholl studio. Korey Garibaldi, Assistant Professor of American Studies at the University of Notre Dame, will offer literary and historical context for black cultural professionals and best-selling authors who were at the forefront of racial integration following World War II.
Co-sponsored by the Terra Foundation for American Art and The Richard H. Driehaus Foundation. Presented by the Block Museum of Art in conjunction with Art Design Chicago. This program is concurrent to The Designs of African American Life, a symposium taking place at the Chicago Cultural Center, November 2-3.
Image: Photograph of (left to right) Fred Ota, Thomas Miller, and John Weber, c.1963. Courtesy of the Goldsholl Family.