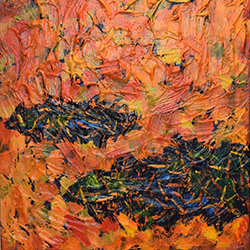 When: Friday, September 14, 2018
9:00 AM - 4:45 PM
Where: 680 North Lake Shore Drive, Suite 1100, NUPOC, North Lake Shore Drive, Chicago, IL 60611
Audience: Faculty/Staff - Student - Public - Post Docs/Docs - Graduate Students
Cost: Free
Contact: R. J. Garrick, PhD 312.503.5700

Group: Northwestern University Prosthetics-Orthotics Program (NUPOC)
Category: Fine Arts
Description:
At NUPOC, science, technology and art intersect. In recognition of the artistry that is vital to prosthetics and orthotics, NUPOC is delighted to announce the installation of 5 abstract paintings by Ju-Sung Kim.
Mr. Kim's work focuses on consciousness, which has neither a fixed form nor color. The abstractions depicted in his work express the inner world of self and consciousness. The painter reflects on himself, seeking the true nature of the self. In Buddhist conceptualization, Mr. Kim's paintings represent the process of searching for the 'true, authentic self' (眞 我). 
During his 40-year career as an artist, Mr. Kim has exhibited his work in solo and group exhibits from coast-to-coast, including California, Illinois, New York, Virginia, Washington D.C.; and internationally in Toronto, Canada and throughout the Republic of Korea. He is a graduate of the College of Art, Chung-Ang University (Seoul).