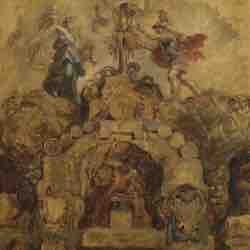 When: Thursday, November 8, 2018
5:15 PM - 6:30 PM
Where: Kresge Hall, 2-350, 1880 Campus Drive, Evanston, IL 60208 map it
Audience: Faculty/Staff - Student - Public - Post Docs/Docs - Graduate Students
Contact: English Department 847.491.7294

Group: English Department
Co-Sponsor(s):
Department of Art History

Category: Lectures & Meetings
Description:
The Early Modern Colloquium is proud to present a talk by Christine Göttler, Professor emerita of Art History at the Institut für Kunstgeschichte, Universität Bern and Andrew W. Mellon Foundation Fellow at the Newberry Library, on Thursday, November 8 at 5:15 pm in Kresge 2-350 (the Kaplan seminar room). This event is co-sponsored by the Department of Art History. Her paper is called "Mount Potosí in Antwerp: Mythological, Metallurgical, and Monetary Imagery in Rubens's Arch of the Mint for the Entry of Cardinal-Infante Ferdinand (1635)."
Set up on the north-west corner of the Antwerp Royal Mint, Rubens's Arch of the Mint conflated the site of the silver mountain of Potosí (with its seemingly inexhaustible flow of silver) with that of Mount Etna with its underground forge of Vulcan, famed for his artifice and cunning. The hardship forced on New World silver miners and slaves was implicitly aligned with the labors of the 'Habsburgian' heroes Jason and Hercules in their quests for the Golden Fleece and the Golden Apples of the Hesperides. My paper situates Rubens's Arch of the Mint within a larger framework of the circulation of silver and of the creation of monetary, moral, and aesthetic values. And it raises the question of how at Rubens's Mount Potosí Spanish and colonial narratives intersected with local and urban concerns.
The talk will be followed by a Q&A and a reception. Light refreshments will be served.
More Info
Add to Calendar