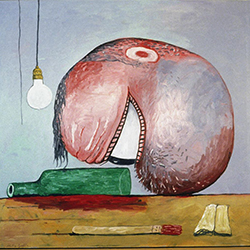 When: Thursday, November 15, 2018
12:30 PM - 1:45 PM
Where: Crowe Hall, Crowe 1132, 1860 Campus Drive, Evanston, IL 60208 map it
Audience: Student
Contact: Mary Clare Meyer 847.491.3230

Group: Department of Art History
Category: Academic
Description:
Rachel Haidu is Associate Professor of Art History at the University of Rochester. Her first book, The Absence of Work: Marcel Broodthaers 1964-1976 (October Books, 2010) examines the functions of national identity, the public sphere, and "bad faith," and her current book project is on resurgent notions of selfhood in contemporary art. Her criticism has appeared in Artforum, Texte zur Kunst, and October, and she has written essays on a wide range of artists, including James Coleman, Maria Hassabi, Sharon Hayes, Edward Krasiński, Ulrike Müller, Gerhard Richter, and Andrzej Wróbleswki.
Lunch will be provide. Please RSVP to art-history@northwestern.edu.
Northwestern University Department of Art History presents the Warnock Lecture Series.
Image: Philip Guston, Head and Bottle, 1975