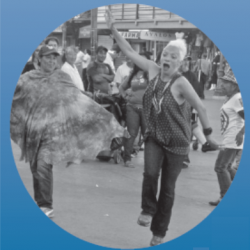 When: Wednesday, November 14, 2018
5:00 PM - 6:00 PM
Where: Annie May Swift Hall, Room 103, 1920 Campus Drive, Evanston, IL 60208 map it
Audience: Student - Post Docs/Docs - Graduate Students
Contact: Performance Studies

Group: Department of Spanish and Portuguese
Category: Academic
Description:
Since 1999 Doris Difarnecio has created and directed theatre pieces with
 FOMMA (Fortaleza de la Mujer Maya), a collective of Mayan women
 who use theater as a tool for education and community building.
 From 2007 to 2014 she directed Centro Hemisférico, the satellite
 headquarters of the Hemispheric Institute of Performance and Politics
 in San Cristóbal de las Casas, Mexico. Drawing on her theatrical and
 interdisciplinary background, Doris has developed public programming
 for various academic institutions in New York, Canada, Brazil, Argentina,
 Chile, Uruguay, Colombia, Peru and India. In collaboration with other
 artists, activists and scholars she created Arte Acción, a digital platform for
 performance, activism and political mobilization. In her workshop and talk 
Doris will share her intercultural work across the Americas, focusing on how
 the politics of body and memory in performance can open up diverse strategies
 in contexts of racial, ethnic, and sexual violence.