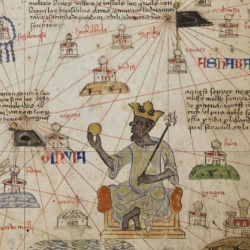 When: Saturday, January 26, 2019
2:00 PM - 3:30 PM Central
Where: Block Museum of Art, Mary and Leigh, 40 Arts Circle Drive, Evanston, IL 60208 map it
Audience: Faculty/Staff - Student - Public - Post Docs/Docs - Graduate Students
Cost: Free and Open to All
Contact: Block Museum of Art (847) 491-4000

Group: Block Museum of Art
Category: Global & Civic Engagement
Description:
Journey to a medieval world with Africa at its center.
Seeking to dramatically shift how we understand and study the medieval world, Caravans of Gold, Fragments in Time: Art, Culture, and Exchange across Medieval Saharan Africa, the first major art exhibition to address the global reach of West Africa in the medieval period, opens at The Block Museum of Art at Northwestern University on January 26, 2019. The exhibition highlights Africa's central role in the global medieval period, a time when West African gold fueled a far-reaching economy and served as a crossroads for art, people, and ideas that moved across the Sahara Desert to Europe, the Middle East, and beyond.
Caravans of Gold presents more than 250 artworks and fragments spanning types, styles, and religious practices, representing over five centuries and a vast geographic expanse. The works, both European and African, weave a story of the global networks and multi-directional trade at play in the medieval world. The exhibition is notable for an unprecedented number of loans from the national collections of Africa, including many works never before seen in the United States.
----------------
Caravans and Crossroads: Art, Music, and Stories
Open house throughout The Block, 10:30 AM – 1 PM
Drop by the Block for an all-ages celebration inspired by Caravans of Gold and be among the first to explore the exhibition. Join Chicago artist Rhonda Wheatley in a hands-on activity exploring the powerful stories that objects tell. Experience live West African music and DJ sets throughout the museum featuring special guest, seventh-generation Jeli (griot) Morikeba Kouyate. A master of the kora, Kouyate translates the oral history and legends from medieval West Africa to the present day.
Opening Conversation: Caravans of Gold
Pick Stager Concert Hall, 2 PM
"Africa is forcing those who will listen to reconsider the continent."
- Gus Casely-Hayford
Renowned speakers include Chris Abani, Nigerian-born novelist, poet, and essayist and winner of 2009 Guggenheim Award; Gus Casely-Hayford, Director of the Smithsonian National Museum of African Art in Washington, D.C, and host of the BBC's Lost Kingdoms of Africa. They will be joined by Caravans of Gold curator Kathleen Bickford Berzock, the Block's Associate Director of Curatorial Affairs and former curator of African Art at the Art Institute of Chicago. Taking up themes from the exhibition, this panel will consider the relationships between history, power, and imagination, and ask what trans-Saharan exchange from the distant past can tell us about movement and migration today. Jonathan Holloway, Provost of Northwestern University and Professor of History and African American Studies, and Annelise Riles, Executive Director of the Roberta Buffett Institute for Global Studies and Associate Provost for Global Affairs will provide welcoming remarks.
This program is generously supported by The Alumnae of Northwestern University.