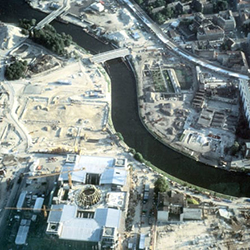 When: Friday, February 8, 2019
7:00 PM - 9:00 PM Central
Where: Block Museum of Art, Mary and Leigh, 40 Arts Circle Drive, Evanston, IL 60208 map it
Audience: Faculty/Staff - Student - Public - Post Docs/Docs - Graduate Students
Cost: FREE
Contact: Block Museum of Art (847) 491-4000

Group: Block Museum of Art
Category: Fine Arts
Description:
Timed with the 30th anniversary of the fall of the Berlin wall, Northwestern doctoral candidates Evelyn Kreutzer and Esra Cimencioglu have curated a series of stylistically diverse films that promise to shed new light on this crucial moment in European history. Migrating Berlin reveals fascinating "micro-histories" that unsettle established East/West narratives about this period of cultural and architectural transformation. Documentaries like Duvarlar-Mauern-Walls (2000) and Wir Bleiben Hier (1990) chronicle the alienation and socio-economic struggle among Germany's migrant populations during reunification, while Berlin, Babylon (2001) considers how the built environment of the city itself reflects these sweeping changes. With commentary by Northwestern faculty, visiting scholars and filmmakers, these films demonstrate the urgency of returning to these neglected histories three decades on.
Promotional support provided by the Goethe Institut
Berlin, Babylon
(Hubertus Siegert, 2001, Germany, DCP, 88 min.)
In German with English subtitles
After Germany's reunification and the decision to relocate the country's capital to Berlin in 1990, the city faced one of the most sweeping architectural transformations in Western European history. Renowned urban planners and architects were now challenged to design a new, future-oriented city, while also honoring a past almost erased during and after World War II. Using archival and original footage, Hubertus Siegert presents both a documentary on this particular historical process, as well as a critical and poetic meditation on history itself. Berlin's famous experimental band Einstürzende Neubauten deliver an ambient and captivating industrial soundtrack.
Introduced by Ingrid Zeller, Professor in the German Department at Northwestern University