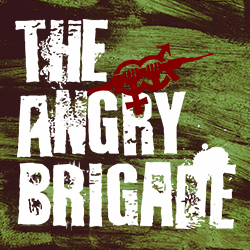 When: Saturday, May 25, 2019
8:00 PM - 10:00 PM
Where: Wirtz Center for the Performing Arts, Hal & Martha Hyer Wallis Theater. 1949 Campus Drive, 1949 Campus Drive; 10-30 Arts Circle Drive, Evanston, IL 60208 map it
Audience: Public
Cost: General Public $10
NU Student $6/Adv. $10/Door
Contact: Wirtz Center Box Office 847.491.7282

Group: Virginia Wadsworth Wirtz Center for the Performing Arts
Category: Fine Arts
Description:
"The government has declared a vicious class war.
Our group has started to fight back . . . with bombs."
Against a backdrop of high unemployment and the deregulated economy of 1970s Britain, a young urban guerrilla group mobilizes: The Angry Brigade. Their targets: members of parliament, embassies, police, pageant queens. An uprising has begun and no one is exempt. As a special police squad hunt the home-grown terrorists whose identities rocked the foundation of the oldest empire on earth, James Graham's heart-stopping and darkly comic thriller lures us into a frenzied world that looks much like our own.
Recommended for ages 13+
THE ANGRY BRIGADE
May 24 – 26
Hal & Martha Hyer Wallis Theater, 1949 Campus Drive, Evanston
By James Graham
Directed by Nate Cohen
Performance Schedule
Friday, May 24 8:00PM
Saturday, May 25 2:00PM & 8:00PM
Sunday, May 26 2:00PM
Ticket Prices
General Public $10
NU Student $6/Adv. $10/Door
Box Office: 847-491-7282
WIRTZ.NORTHWESTERN.EDU