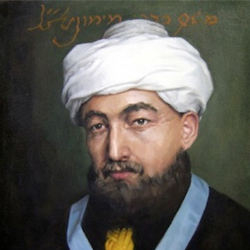 When: Monday, May 13, 2019
12:00 PM - 1:30 PM Central
Where: Kresge Hall, The Forum (Room 1-515), 1880 Campus Drive, Evanston, IL 60208 map it
Audience: Faculty/Staff - Student - Post Docs/Docs - Graduate Students
Cost: Free
Contact: Danny Postel

Group: Middle East and North African Studies
Co-Sponsor: The Crown Family Center for Jewish and Israel Studies

Category: Lectures & Meetings
Description:
Moses Maimonides (1138-1204) penned perhaps the most comprehensive medieval account of rabbinic tradition. But his ideas were at odds with his medieval predecessors and frequently, as his interpreters noted, the talmudic tradition itself. This talk situates several anomalous features of Maimonides's legal thought in the context of Andalusian Mālikī and early Almohad jurisprudence, thereby embedding Maimonides' timeless vision of Jewish law in a particular moment of Islamic legal history. Reading Jewish and Islamic legal traditions in concert contributes to a long-needed reevaluation of the constitutive elements of Jewish law in the Islamic world.
Marc Herman is currently an Institute Fellow at the Frankel Center for Advanced Judaic Studies at the University of Michigan. His research focuses on intersections between Islamic and Jewish jurisprudence in the medieval period, with a particular interest in questions of legal authority and the transmission of prophetic traditions. He is currently writing his first book, titled Imagining Revelation: The Oral Torah in an Islamic Key.
This event is co-sponsored by the Crown Family Center for Jewish and Israel Studies and the Middle East and North African Studies Program.
Lunch will be served.
Add to Calendar