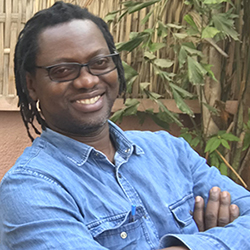 When: Wednesday, April 3, 2019
12:00 PM - 1:00 PM
Where: 620 Library Place, room 106, Evanston, IL 60208 map it
Audience: Faculty/Staff - Student - Public - Post Docs/Docs - Graduate Students
Contact: Program of African Studies 847.491.7323

Group: Program of African Studies
Co-Sponsor(s):
Institute for the Study of Islamic Thought in Africa (ISITA)

Category: Lectures & Meetings
Description:
Abdourahmane Seck, ISITA visiting scholar
Producing Senegal: Social Processes and the Study of Islam
Abstract
A rigid colonial equation has profoundly marked and continues to mark the study of Islam in Senegal. This undying colonial equation is reflected in a fear of Islam, which is thus the subject of attention and even surveillance by researchers. Islam is observed as an explanatory factor of people's behavior, or as an obstacle to coax, prevent, educate, control or even contain, with the aim of promoting a modern, republican, democratic, prosperous and secular destiny for Senegal. Breaking with this orientation, this presentation will expose how my work on Islam in Senegal has instead moved to the level of the field, to objects and to methods.
The theoretical, methodological and political consequences of these new approaches are manifold. They show that Islam has become an idiom of the nation, whose design proceeds less from the discourses of elites and officials than reformulations that they make to persist in the everyday. They show that the amplifications of the discourses and demands of Islam are not necessarily signs of Islamist ruptures. Instead, They show that a new way of thinking about Islam in our societies is needed, but that perhaps already established institutions are not ready to take the plunge.
Bio
Dr. Abdourahmane Seck is a visiting scholar with the Institute for the Study of Islamic Thought in Africa (ISITA). Dr. Seck has a multidisciplinary background encompassing philosophy, anthropology, and modern and contemporary history of Africa. For the past fifteen years, he has worked on the production of social and symbolic ties in Africa, with a specific focus on the areas of religion, politics, immigration and oral production. He has specific knowledge of West African and Senegalese contexts in particular, a knowledge that is also based on his activist and organizational engagement on the continent and with diasporic communities. Seck is based in the Faculty of Civilizations, Religions, Arts and Communication at the University Gaston Berger of Saint-Louis, where he teaches at the Centre for the Study of Religions. He is the author of several works on Islam and south-south migration. After publishing his monograph, La Question musulmane au Sénégal. Essai d'anthroplogie d'une nouvelle modernité (Karthala, Paris 2010), he co-edited two books: Figures et discours de migrants. Mémoires de route et de corps (Riveneuve, Paris 2015) and Etat, Islam et Sociétés au Sénégal (Karthala, Paris 2015). He led the Religion Study Centre at University Gaston Berger between 2012 and 2014. He is currently the Deputy Director of the Laboratory for Analysis of Societies and Powers / Africa -Diasporas (LASPAD) and coordinator of the Observatory of African diasporas (OAD).
This event is cosponsored by the Institute for the Study of Islamic Thought in Africa (ISITA).