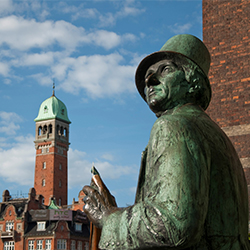 When: Friday, July 26, 2019
7:30 PM - 8:45 PM
Where: Wirtz Center for the Performing Arts, Ethel M. Barber Theater, 30 Arts Circle Drive, 1949 Campus Drive; 10-30 Arts Circle Drive, Evanston, IL 60208 map it
Audience: Public
Cost: $12 - $20
Contact: Wirtz Center Box Office 847.491.7282

Group: Virginia Wadsworth Wirtz Center for the Performing Arts
Category: Fine Arts
Description:
Music and Lyrics by Frank Loesser
Additional Lyrics and Book by Timothy Allen McDonald
Directed by Rives Collins
Produced in association with Imagine U

July 13 - 28
Ethel M. Barber Theater
30 Arts Circle Drive

ABOUT
At the age of 13, young Hans Christian Andersen is the first commoner ever chosen by the King of Denmark to study at the Royal Academy. But faced with the task of leaving his provincial family behind, he is dreading the experience. Upon arrival in Copenhagen he is quickly swept away in a dazzling world of new characters, challenges, and friends that ignite his inspiration for some of the world's most famous stories such as "The Little Mermaid," "The Ugly Duckling," "The Emperor's New Clothes" and more.

Directed by Rives Collins and based on the life and imagination of Hans Christian Andersen, this brand new musical, which features a score by legendary Broadway composer Frank Loesser and an original libretto by Timothy Allen McDonald, follows the inspiring coming of age journey of a young penniless storyteller who would ultimately become one of the most celebrated writers of all time.

Just as his stories have inspired countless generations, young and old alike, this enchanting summer production is recommended for all ages.

Featuring the Frank Loesser songs "Wonderful Copenhagen," "Inch Worm," "Anywhere You Wander," "Thumbelina," and more.

Estimated Running Time: 1 hour and 15 minutes, with no intermission.
TICKETS
July 13 - 28
Ethel M. Barber Theater
30 Arts Circle Drive

Saturday, July 13 11:00AM & 2:00PM (All Seats $12)
Sunday, July 14 2:00PM
Friday, July 19 7:30PM
Saturday, July 20 2:00PM & 7:30PM
Sunday, July 21 2:00PM
Friday, July 26 7:30PM
Saturday, July 27 2:00PM & 7:30PM
Sunday, July 28 2:00PM

Tickets On Sale Online Tuesday, April 2
Phone Orders and Box Office Sales Available Thursday, May 16

Buy Tickets:
https://web.ovationtix.com/trs/pr/1008833