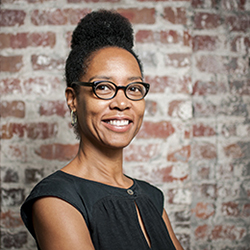 When: Wednesday, February 5, 2020
6:00 PM - 8:00 PM
Where: Block Museum of Art, Mary and Leigh, 40 Arts Circle Drive, Evanston, IL 60208 map it
Audience: Faculty/Staff - Student - Public - Post Docs/Docs - Graduate Students
Cost: Free and public welcome!
Contact: Jill Mannor 847.467.3970

Group: Alice Kaplan Institute for the Humanities
Co-Sponsor(s):
Block Museum of Art

Category: Lectures & Meetings
Description:
Winter keynote of the Kaplan Humanities Institute's Memorializing Dialogue:
Sonya Clark: The Flag We (Should) Know
Throughout her more than two-decade career, artist Sonya Clark has explored the meaning embedded in commonplace objects and materials such as textiles, hair, combs, and currency, to reflect on the complex issues of race, American history, and black cultural production. Her recent work presents challenging questions about nationhood and memorialization through the investigation, reconstruction, and dismantling of flags as symbols. Clark's 2019 project, Monumental Cloth, the Flag We Should Know, explores the symbolic legacy of the Confederate Battle Flag by invoking its lesser known historical counterpart, the Confederate Flag of Truce. Clark will discuss this work in the context of her larger oeuvre, and will be joined in conversation by Janet Dees, the Block's Steven and Lisa Tananbaum Curator of Modern and Contemporary Art.
Co-presented by The Block Museum of Art, the Department of Art Theory and Practice, and Kaplan Humanities Institute. 
EventBrite link: https://www.eventbrite.com/e/sonya-clark-the-flag-we-should-know-tickets-83191210149
Sonya Clark is Professor of Art at Amherst College in Amherst, Massachusetts. Previously, she was a Distinguished Research Fellow in the School of the Arts at Virginia Commonwealth University where from 2006 until 2017 she served as chair for the Craft/Material Studies Department. She is the recipient of numerous fellowships and awards including a United States Artist Fellowship, a Pollock Krasner award, an 1858 Prize for Contemporary Southern Art, an Anonymous Was a Woman Award, a Red Gate Residency in China, a Rockefeller Foundation Bellagio Residency in Italy, and a Smithsonian Artist Research Fellowship, among many others. Her work has been exhibited in over 350 museum and galleries in the Americas, Africa, Asia, Europe and Australia.
____________________________________________
The 2019-2020 Humanities Dialogue: MEMORIALIZING
A year-long public conversation about commemorating, contesting, and claiming from humanistic perspectives.
What stories do monuments tell?
When is remembrance also a repression?
How does memorializing shape the present?
How do we negotiate collective and disputed memories?

Presented in partnership with multiple Northwestern departments and programs, the Memorializing Dialogue will include talks by distinguished scholars and artists from different disciplinary perspectives.