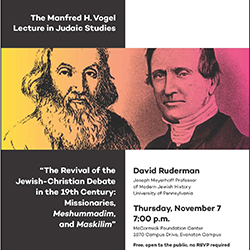 When: Thursday, November 7, 2019
7:00 PM - 8:30 PM Central
Where: McCormick Foundation Center, Forum auditorium, 1870 Campus Drive, Evanston, IL 60208 map it
Audience: Faculty/Staff - Student - Public - Post Docs/Docs - Graduate Students
Contact: Nancy Gelman (847) 491-2612

Group: The Crown Family Center for Jewish and Israel Studies
Category: Lectures & Meetings
Description:
"The Revival of the Jewish-Christian Debate in the 19th Century: Missionaries, Meshummadim, and Maskilim"
David Ruderman, Joseph Meyerhoff Professor of Modern Jewish History
University of Pennsylvania
This lecture examines a chapter in the history of Jewish-Christian relations in nineteenth-century Europe, focusing on one prominent evangelical missionary Alexander McCaul and several of his associates, both allies and opponents, engaged in a broad conversation about the nature of Christianity, Judaism, and their intertwined destinies in the past and present.
 
DAVID RUDERMAN  is the Joseph Meyerhoff Professor of Modern Jewish History at the University of Pennsylvania.  From 1994 to 2014, he was also the Ella Darivoff Director of Penn's Herbert D. Katz Center for Advanced Judaic Studies. Prof. Ruderman was one of the pioneers in the field of early modern Jewish history, and is the author or editor of 15 books and of hundreds of articles and reviews. He is the recipient of two National Jewish Book Awards, the Koret Book Prize, numerous teaching awards, and a Lifetime Achievement Award from the National Foundation for Jewish Culture.  Prior to coming to Penn, he held the Frederick P. Rose Chair of Jewish History at Yale University (1983-94) and the Louis L. Kaplan Chair of Jewish Historical Studies at the University of Maryland, College Park (1974-83), where he was instrumental in establishing both institutions' Judaic studies programs. Professor Ruderman has also produced two courses on Jewish history for the Great Courses Teaching Company on both medieval and modern Jewish history.