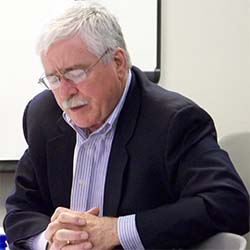 When: Wednesday, January 29, 2020
12:00 PM - 1:00 PM Central
Where: 620 Library Place, Evanston, IL 60208 map it
Audience: Faculty/Staff - Student - Public - Post Docs/Docs - Graduate Students
Contact: Rebecca Shereikis 847.491.2598

Group: Institute for the Study of Islamic Thought in Africa (ISITA)
Co-Sponsor: Program of African Studies

Category: Academic, Lectures & Meetings, Multicultural & Diversity, Global & Civic Engagement
Description:
Join the Institute for the Study of Islamic Thought in Africa and the Program of African Studies as we provide lunch and a lecture.
What's in the Manuscripts of Timbuktu?
Charles Stewart, professor emeritus of history, University of Illinois at Urbana-Champaign
Abstract:
No single body of primary sources in the literary heritage of sub-Saharan Africa has attracted as much attention or attained as much celebrity during the past 25 years as the fabled Arabic manuscripts of Timbuktu.  Despite this, what is actually in the Timbuktu manuscripts has been a mystery. For the past five years an ambitious project by a consortium of 28 private libraries in Timbuktu, in collaboration with the Hamburg Centre for the Study of Manuscript Cultures and the Hill Museum and Manuscript Library has been inventorying and digitizing 250,000 manuscripts in Timbuktu.  The citations (and some images) are now accessible at the UC Berkeley site: https://waamd.lib.berkeley.edu/ and for the first time we can learn what the Timbuktu manuscripts are all about.  Spoiler alert: there's both much more and much less than we thought.
Bio:
CHARLES STEWART is professor emeritus of history at the University of Illinois and served as ISITA's director of programming from 2014-16. An expert on the history of Islam in Mauritania and Arabic written traditions in Arabic in the broader West African region, Stewart recently compiled volume V in the "Arabic Literature of Africa Series," titled The Writings of Mauritania and the Western Sahara (Brill, 2015). This two-volume annotated bibliography contains entries on 10,000 manuscripts written during the past 350 years by 1,900 authors. Stewart is the creator of the first computer-based cataloging system for Arabic manuscripts in West Africa accessible online as the West African Arabic Manuscript Database.