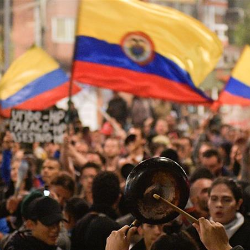 When: Thursday, February 6, 2020
12:00 PM - 1:00 PM CT
Where: Crowe Hall, Room 1-132, 1860 Campus Drive, Evanston, IL 60208 map it
Audience: Faculty/Staff - Student - Public - Post Docs/Docs - Graduate Students
Cost: Free and open to the public
Contact: Danny Postel

Group: Latin American and Caribbean Studies
Co-Sponsor: Department of Political Science
150 Years of Women

Category: Academic, Lectures & Meetings, Multicultural & Diversity, Global & Civic Engagement
Description:
Please join the LACS Program for the launch of our Conversatorio series, conversations about contemporary issues in Latin America and the Caribbean that focus on a single country.
In this Conversatorio, María Camila Palacio, a graduate student in the Department of Spanish & Portuguese, and Laura García Montoya, a graduate student in the Department of Political Science, will discuss the situation in Colombia today.
María Camila Palacio received a B.A. in Literature from the Universidad de Los Andes in Bogotá, Colombia and an M.A in Digital Humanities from Loyola University Chicago. She has collaborated with several Digital Humanities projects, like the 1968 Democratic National Convention virtual reality experience made by the Chicago History Museum, the Lili Elbe Digital Archive from Loyola University, and her own project, "Periodismo en Tiempos de Guerra", which aims to serve both as an archive of the armed conflict coverage in Colombia and a tool to compare and study how mediums have narrated the conflict in Colombia. Currently, she is interested in studying contemporary narratives of the conflict in Colombia and analyze how these narratives conform a vision of the conflict and a series of discourses that impact the way Colombia's recent past is seen and read.
Laura García Montoya is an advanced Ph.D. candidate in Political Science at Northwestern. In her dissertation, "Trapped by Inequality: The Politics of Redistribution in Latin America", she identifies the causes of economic inequality traps in Latin America and explains how and why some countries manage to escape such traps and embark on paths of diminishing inequality. Her research and teaching interests are in the fields of comparative politics and methodology with a focus on the political economy of inequality and political violence in Latin America. Through her research and teaching, she strives to contribute to our understanding of such challenges and potential solutions towards escaping inequality and conflict traps in the region. As a methodologist, she is interested in how to leverage multi-method tools to strengthen research designs and causal inference.
Lunch will be provided.