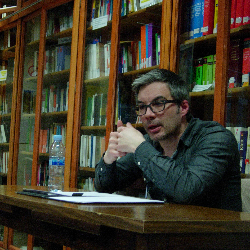 When: Tuesday, February 25, 2020
5:00 PM - 7:00 PM Central
Where: University Hall, Room 102, 1897 Sheridan Road, Evanston, IL 60208 map it
Audience: Faculty/Staff - Student - Public - Post Docs/Docs - Graduate Students
Cost: Free and open to the public
Contact: Danny Postel

Group: Latin American and Caribbean Studies
Co-Sponsor: Department of Spanish and Portuguese

Category: Academic, Lectures & Meetings, Multicultural & Diversity, Global & Civic Engagement
Description:
Please join us for the fourth lecture in the 2019-2020 Latin America Imagined series.
Never achieved at a political level in the way Simón Bolívar had envisioned it in his "Letter from Jamaica," Latin Americanism — as a project of continental integration — has lived, for almost two centuries, a predominantly discursive life, particularly visible in the courses, journals and book series that since the late 19th century have imagined the region as a unified yet dependent political and cultural player on the global stage. Indeed, its limited social outreach concerned some of his early proponents: like other forms of transnationalism, they wondered, was Latin Americanism a political and cultural practice destined to remain underpopulated?
In this talk, Fernando Degiovanni will explore ways in which a number of Latin American intellectuals try to expand Latin Americanism's discursive life by taking it "to the streets." In order to investigate its forms of embodied performance, he will pay particular consideration to visual documentation of Latin Americanist public meetings, street demonstrations and performative events.
Fernando Degiovanni is Professor of Latin American, Iberian and Latino Cultures at The Graduate Center, City University of New York (CUNY). He is the author of two award-winning books: Los textos de la patria: Nacionalismo, políticas culturales y canon en Argentina (Beatriz Viterbo, 2007; Alfredo Roggiano Prize for Latin American Cultural and Literary Criticism) and Vernacular Latin Americanisms: War, the Market, and the Making of a Discipline (University of Pittsburgh Press, 2018; Best Book in the Humanities, LASA Southern Cone). He is also senior editor of Latin American Literatures in Transition, 1870-1930 (Cambridge University Press, forthcoming). His current research focuses on issues of intellectual performativity, embodiment and spectacularizarion in modern Argentina.