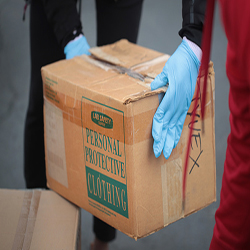 When: Tuesday, April 7, 2020
12:00 PM - 1:00 PM Central
Where: Online
Audience: Faculty/Staff - Student - Public - Post Docs/Docs - Graduate Students
Contact: Dylan Peterson (847) 467-2770

Group: Buffett Institute for Global Affairs
Co-Sponsor: Havey Institute for Global Health

Category: Global & Civic Engagement
Description:
This Webinar took place on April 7, 2020. You can find a recording and a recap of key takeways here. 
---------------
With the U.S. stockpile of medical supplies for combatting COVID-19 nearly depleted, a clogged global supply chain, and "a Wild West-style" online marketplace rife with hoarders and price-gougers, what can be done to get medical supplies to health care workers on the front lines of the fight against COVID-19? Northwestern University Transportation Center Director and multimodal transportation systems expert, Dr. Hani Mahmassani, and Northwestern University professor of computer science, Dr. Kristian Hammond will share insights from a survey of logistics leaders worldwide, and talk about their work with the public and private sectors to launch the Emergency Response Exchange, a new online platform that directly connects health care providers with medical suppliers.
This webinar will be available through WebEx at this LINK.  Please use the following passcode when accessing: 1234.  The talk will begin at 12 p.m. CDT on Tuesday, April 7.
This is part of the Northwestern Buffett Institute for Global Affairs' Confronting COVID-19: Global Implications and Futures webinar series.