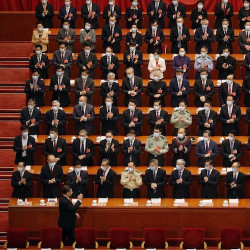 When: Wednesday, July 15, 2020
12:00 PM - 1:00 PM
Where: Online
Webcast Link
Audience: Faculty/Staff - Student - Public - Post Docs/Docs - Graduate Students
Cost: FREE
Contact: Stephanie Kaczynski 847.467.6400

Group: Northwestern Buffett Global Learning Office
Co-Sponsor(s):
Buffett Institute for Global Affairs

Category: Academic, Multicultural & Diversity, Global & Civic Engagement
Description:
As the earliest epicenter of the pandemic, China adopted a set of powerful intervention measures and has achieved a huge success in controlling the virus and bringing life back to normal. The government's response is perceived as highly satisfactory by Chinese citizens and boasted by many as further evidence to demonstrate the advantages of the unique Chinese governance model—the so-called "China Model." This, along with the rapid rebound in domestic economic activity, has generated greater confidence in the competence and resilience of the Chinese Communist regime, reversing the pessimist view earlier at the beginning of the outbreak that the regime was facing a "Chernobyl moment."
In this talk, Dr. Sun will first review the Chinese government's response to the pandemic to demonstrate how the "China Model," despite its subsequent effectiveness in implementing the intervention measures, failed to prevent the outbreak from escalating into a regime-destabilizing crisis. He will further explore the role of the Model in the broader Chinese political economy, explaining how it helped China achieve impressive economic growth over the past four decades but also sowed the seeds of trouble. Finally, he will reflect on some latest phenomena and trends in Chinese political economy during COVID-19 to consider their implications for the future of China.
Wednesday, July 15
12:00 PM CDT
RSVP for Zoom Link: https://northwestern.az1.qualtrics.com/jfe/form/SV_6ohtECCoFJ7ZWQZ
Speaker Bio: 
Dr. Xin Sun is Lecturer (Assistant Professor) in Chinese and East Asian Business at the Lau China Institute and King's Business School, King's College London. Prior to joining King's, he held academic positions at University of Oxford and Trinity College Dublin. Dr. Sun studied at Northwestern University between 2008 and 2014, obtaining a Ph.D. in Political Science and serving as graduate research fellow at Institute of Policy Research (IPR). He obtained a bachelor degree in Chemistry and Economics from Peking University.
Dr. Sun's research interests include political economy, state-business relations, and rural and urban development in China. His current research examines how the Chinese Communist Party utilizes and constantly tailors an extractive property-rights regime to generate and distribute patronage and economic rents among political elites, as well as the impacts of such politically-driven land-use practices on social conflict and long-term regime stability. His latest publications have appeared in Journal of Public Policy, Political Studies, Problems of Post-Communism, The China Journal, and World Development.
Dr. Sun teaches POLI SCI 381-SA: Political Economy of Contemporary China for students studying abroad on the China: Political & Economic Development summer Northwestern study abroad program.
About #GLOVicariously Webinar Series: 
Amidst the global COVID-19 pandemic and ongoing anti-racism protests, global engagement across difference and development of intercultural skills are critically needed to build a more just and peaceful world. As the Global Learning Office, we know that travel restrictions and social distancing guidelines have halted student mobility and study abroad programming, but want to continue fostering global learning opportunities for students throughout this summer 2020 through our virtual webinar series, #GLOVicariously. #GLOVicariously webinars will feature speakers involved in GLO programs who have expertise on a variety of critical global issues. Students will gain a greater understanding of these topics and more while learning more about the cultural contexts and systems in which they unfold. This webinar series is intended primarily for students, but is open to anyone who wishes to attend.