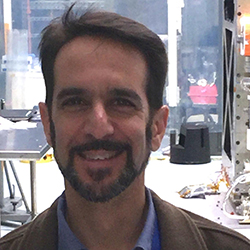 When: Tuesday, November 10, 2020
4:00 PM - 5:00 PM Central
Where: Online
Audience: Faculty/Staff - Student - Post Docs/Docs - Graduate Students
Contact: Yas Shemirani

Group: Physics and Astronomy Astrophysics Seminars
Category: Academic
Description:
Abstract: NASA's Neutron star Interior Composition Explorer (NICER) aims to answer longstanding questions about the physics and astrophysics of neutron-star and black-hole systems, among other sources of celestial X-ray emission, using a telescope onboard the International Space Station. Now in a Guest Observer phase, NICER has broadened its scientific horizons while continuing to pursue its "legacy science" objective of probing the densest form of matter known, that within the cores of neutron stars. Through high-time-resolution spectroscopy in soft X-rays, NICER is delivering sometimes surprising insights into the structure, dynamics, and energetics of the extraordinary objects that populate the strong-gravity cosmos. Following a brief overview of the mission, I present a sampling of recent results and describe plans for dramatically improving NICER's responsiveness to time-critical targets of opportunity.
Speaker: Zaven Arzoumanian, NASA
Web site: https://science.gsfc.nasa.gov/sed/bio/zaven.arzoumanian-1 
Host: Giacomo Fragione
If you know someone who would be interested in attending this talk, please contact Yas Shemirani (yassaman.shemirani@northwestern.edu) to access the Zoom link.
Keywords: Physics, Astronomy, Astrophysics