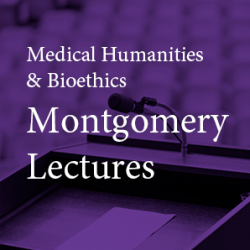 When: Thursday, October 8, 2020
12:00 PM - 12:45 PM
Where: Online
Audience: Faculty/Staff - Student - Public - Post Docs/Docs - Graduate Students
Cost: FREE - REGISTRATION IS REQUIRED
Contact: Myria Knox 312.503.7962

Group: Medical Humanities & Bioethics Lunchtime Montgomery Lectures
Category: Academic, Lectures & Meetings, Grand Rounds
Description:
The Master of Arts in Medical Humanities & Bioethics
Presents
A Montgomery Lecture
With
Catherine Belling, PhD
Associate Professor, Medical Education
Faculty, Medical Humanities & Bioethics Graduate Program
Member, Center for Bioethics and Medical Humanities
Northwestern University Feinberg School of Medicine
Haunted Doctors: Clinician Trauma, Emotion, and the Weird 
The idea of being "haunted" appears often in accounts of the experience of health-care professionals and trainees suffering from unresolved sorrow or regret about past clinical events, especially the deaths of patients. This eerie metaphor captures two important, and arguably underemphasized, components of clinical practice: emotion and uncertainty. I'll suggest that doctors' work is, in several senses, weird, and that medicine might benefit from paying closer attention to the etiologies and manifestations of its ghosts.
** PLEASE REGISTER TO RECEIVE THE ZOOM LINK**
Read more about this series  |  Sign up for lecture announcements