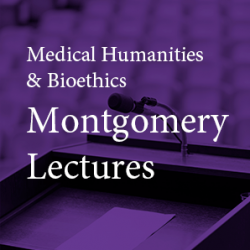 When: Thursday, November 12, 2020
12:00 PM - 12:45 PM
Where: Online
Audience: Faculty/Staff - Student - Public - Post Docs/Docs - Graduate Students
Cost: FREE - REGISTRATION REQUIRED - LINK TO BE POSTED
Contact: Myria Knox 312.503.7962

Group: Medical Humanities & Bioethics Lunchtime Montgomery Lectures
Category: Academic, Lectures & Meetings, Grand Rounds
Description:
The Master of Arts in Medical Humanities & Bioethics
Presents
A Montgomery Lecture
With
M. Jeanne Wirpsa, MA BCC HEC-C
Clinical Ethicist and Program Manager, Medical Ethics
Research Chaplain, Spiritual Care and Education
Northwestern Memorial Hospital
Faculty, MacLean Center for Clinical Ethics
Religion, Bioethics and Medicine
University of Chicago
Religious Exceptionalism in Healthcare: Is it Defensible?
Patients, clinicians, and healthcare institutions appeal to moral claims embedded in religious traditions to request or refuse medical interventions. Accommodation for religion is granted a privileged status by the religious liberty clause of the First Amendment. The creation of the Conscience and Religious Freedom Division under the US Department of Health and Human Services and high-profile court cases asserting the right to gather to worship during the COVID pandemic, among other recent political events, suggests growing support for religious exceptionalism in healthcare.  When clinical ethicists confront real-life cases involving religious claims -- from family refusal to accept death by neurological criteria, patient requests for products free of porcine or bovine components, pleas to "do everything" to give God time to work a miracle for a dying loved one, or clinician recusal from caring for a patient post gender transformation surgery -- the stakes of religious exceptionalism are high. As bioethicist Dan Sulmasy argues, these cases call for the exercise of epistemic moral humility in medicine, even as limits on accommodations may need to be set if they present an undue burden or threaten the common good.