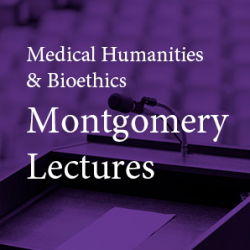 When: Thursday, November 19, 2020
12:00 PM - 12:45 PM
Where: Online
Audience: Faculty/Staff - Student - Public - Post Docs/Docs - Graduate Students
Cost: FREE - REGISTRATION REQUIRED - LINK TO BE POSTED
Contact: Myria Knox 312.503.7962

Group: Medical Humanities & Bioethics Lunchtime Montgomery Lectures
Category: Academic, Lectures & Meetings, Grand Rounds
Description:
The Master of Arts in Medical Humanities & Bioethics
Presents
A Montgomery Lecture
With
Susan Duyar, MD, MA
Resident Physician, Department of OB/GYN
Northwestern University McGaw Medical Center
Misestimating Frozen Eggs

Over the last decade oocyte vitrification, or egg freezing, has developed as a way of fertility preservation for women who are unable or unwilling to create and freeze embryos. While this technology was largely driven by the need for better ways to preserve fertility in young cancer patients, a large and thriving market for egg freezing has arisen in women who wish to delay childbearing for non-medical purposes, or "planned oocyte cryopreservation". However, its rising popularity in this population has raised a host of problems, particularly in the way that it has been advertised to women.  In this talk we will briefly review oocyte cryopreservation, including its risks, benefits, and costs. We will discuss the historical development of planned oocyte cryopreservation and highlight some of the inherent flaws in how it has come be. Finally, we will delve into some of the coercive advertising frameworks that are used to promote planned oocyte cryopreservation and which shapes both the public discourse on the technology and private decision making by women who may consider using this technology.