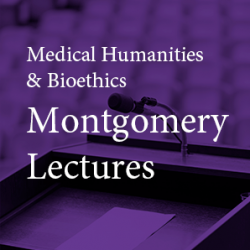 When: Thursday, April 8, 2021
12:00 PM - 12:45 PM Central
Where: Online
Audience: Faculty/Staff - Student - Public - Post Docs/Docs - Graduate Students
Cost: FREE - REGISTRATION REQUIRED
Contact: Myria Knox 312.503.7962

Group: Medical Humanities & Bioethics Lunchtime Montgomery Lectures
Category: Academic, Lectures & Meetings
Description:
The Master of Arts in Medical Humanities & Bioethics
Presents
A Montgomery Lecture
With
Susan Reverby, PhD
Marion Butler McLean Professor Emerita in the History of Ideas
Professor Emerita of Women's and Gender Studies
Wellesley College
Wellesley, Massachusetts
 
Nancy Tomes, PhD
SUNY Distinguished Professor of History
Stony Brook University
Stony Brook, New York
 
Sarah Rodriguez, PhD
Senior Lecturer, Global Health Studies, Weinberg College of Arts & Sciences
Lecturer, Medical Education, Feinberg School of Medicine
Faculty, Medical Humanities & Bioethics Graduate Program
Northwestern University Feinberg School of Medicine

The Love Surgeon: A Story of Trust, Harm, and the 
Limits of Medical Regulation

Please join historians Susan Reverby (Wellesley College) and Nancy Tomes (Stony Brook University) for a conversation with Sarah Rodriguez on her new book, The Love Surgeon: A Story of Trust, Harm, and the Limits of Medical Regulation, and the history of American health care and medical ethics. The Love Surgeon tells a story about Ohio OBGYN James Burt, who believed women's bodies were broken, and only he could fix them. In the 1950s, Burt developed what he called "love surgery," a unique procedure he maintained enhanced the sexual responses of a new mother, transforming her into "a horny little house mouse." Burt performed "love surgery" without getting the consent of his patients, yet he was allowed to practice for over thirty years, harming hundreds of women. Though it would be easy to dismiss Burt as a modern-day Dr. Frankenstein, as Rodriguez reveals, that's not the whole story. The Love Surgeon is both a medical horror story and a cautionary tale about the limits of professional self-regulation. 

A preview of The Love Surgeon is available here and an electronic version is available through the Northwestern University Library.
Read more about this series | Sign up for lecture announcements