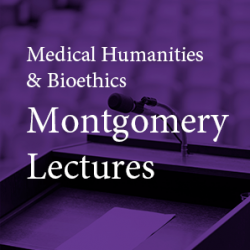 When: Thursday, May 13, 2021
12:00 PM - 12:45 PM Central
Where: Online
Audience: Faculty/Staff - Student - Post Docs/Docs - Graduate Students
Cost: FREE - MUST REGISTER
Contact: Myria Knox 312.503.7962

Group: Medical Humanities & Bioethics Lunchtime Montgomery Lectures
Category: Academic, Lectures & Meetings, Multicultural & Diversity
Description:
The Master of Arts in Medical Humanities & Bioethics
Presents
A Montgomery Lecture
With
Anna Fenton-Hathaway, PhD
Lecturer, Chicago Field Studies Program, Northwestern University
Former Medical Humanities & Bioethics Graduate Affiliate
            Northwestern University Feinberg School of Medicine
Managing Editor, Literature and Medicine
Beyond Dystopia: Genre and the Health Humanities
In October 2016, writer Junot Díaz claimed that "we are at peak dystopia. . . . It has become, along with apocalyptic narrative, the default narrative of the generation." That same year the journal Literature and Medicine published "Health Policy in Dystopia," an essay showing how dystopia fiction of the past reflected contemporaneous issues of health policy—and advocating for the continued use of the genre to grapple with our own issues in healthcare.  This talk will examine these and other claims about what specific genres do for the health humanities. What are the features of contemporary genres like mystery, dystopia, and horror? How do those defining features relate to earlier categories of genre, which were based substantially on the narrator's relationship to the story? How might this relationship matter for medical education, health humanities syllabuses, or scholarship on literature and medicine?
Read more about this series | Sign up for lecture announcements