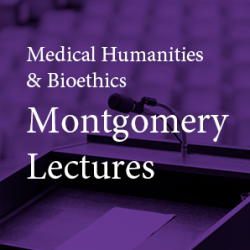 When: Thursday, May 20, 2021
12:00 PM - 12:45 PM Central
Where: Online
Audience: Faculty/Staff - Student - Post Docs/Docs - Graduate Students
Cost: FREE - MUST REGISTER
Contact: Myria Knox 312.503.7962

Group: Medical Humanities & Bioethics Lunchtime Montgomery Lectures
Category: Academic, Lectures & Meetings, Multicultural & Diversity
Description:
The Master of Arts in Medical Humanities & Bioethics
Presents
A Montgomery Lecture
With
Jenell Johnson, PhD
Mellon-Morgridge Professor of the Humanities
Associate Professor of Communication Arts
University of Wisconsin-Madison
A Deeper Bioethics:  
The Lost Legacy of Van Rensselaer Potter
The term "bioethics" was coined by cancer researcher Van Rensselaer Potter in 1970. While Potter is sometimes credited with coining the term, the substance of Potter's bioethics has long been overlooked. Inspired by the land ethic of Aldo Leopold, Potter's bioethics emphasized the interrelation of human health and the health of the environment, stressed the importance of combining perspectives from the humanities and the sciences, urged social and political engagement, and, most strikingly, presented bioethics as a way of living on behalf of life itself. In this talk, I sketch out Potter's vision of bioethics, its resonance with to Arne Naess's writing on Deep Ecology, and discuss the lessons this forgotten legacy might have for the present.
Read more about this series | Sign up for lecture announcements