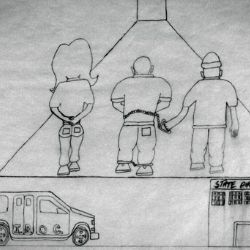 When: Thursday, September 24, 2020
7:00 PM - 9:00 PM Central
Where: Online
Audience: Faculty/Staff - Student - Public - Post Docs/Docs - Graduate Students
Cost: Free and Open to All, Online
Contact: Block Museum of Art (847) 491-4000

Group: Block Museum of Art
Category: Global & Civic Engagement
Description:
Picturing "The Long Term":  Online Film Screening & PNAP Panel Discussion
(Various Artists, 2018, USA, digital, 13 mins hand-drawn animation)
Since 2011, the Prison + Neighborhood Arts Project has brought artists, educators, and activists together with incarcerated individuals at Illinois' Stateville Correctional Center. 
Through classes, workshops, and exhibitions, PNAP creates opportunities for learning across prison walls, connecting those inside with the tools and resources needed to creatively communicate their concerns to the larger Chicago community. 
This event highlights one such initiative: The Long Term (2016-2018), a series of works created around the issue of long-term sentencing policies and their impacts. This screening presents moving-image works generated by this project, including The Long Term (2018, 13 min), a hand-drawn animated film made by artists serving extended sentences, as well as testimonials from people impacted by long sentences. Following the films, members of the PNAP community will discuss the larger scope of the project, the challenges and rewards of arts and humanities education in state prisons, and the urgent need for sentencing reform today. 
Created by artists from Stateville Correctional Center and artists from the Prison + Neighborhood Arts Project:
Chester Brost, Devon Daniels, Joseph Dole, Francisco "Paco" Estrada, Darrell W. Fair, R Dot Nandez, Damon Locks, C. McLaurin, Flynard "Fly 1" Miller, Andrés Reyes, Sarah Ross., B. R. Shaw, Bring and Johnny Taylor.
Participants in the discussion will include:
Damon Locks, visual artist and co-director of art and exhibitions for PNAP
Sarah Ross, visual artist and co-director of art and exhibitions for PNAP
Eric Blackmon, paralegal at Christian Lawndale Legal Center, educator-in-residence at the University of Chicago's Human Rights Lab, former PNAP student. 
Audrey Petty, director of the Odyssey Project at Illinois Humanities, former PNAP teacher
Jill Petty, Communications Officer for the W.K. Kellogg Foundation, co-director of Community Building at PNAP
Miriam Petty, Associate Professor of Radio/Television/Film, Northwestern University, former PNAP teacher
Co-presented with the Alice Kaplan Institute for the Humanities at NU
Presented in conjunction with One Book One Northwestern's 2020-2021 selection, Bryan Stephenson's Just Mercy. Throughout the year, the Block will present a series of films, talks, and online exhibitions around themes of Stephenson's book, which examines the effects of racial discrimination in the American legal system. For more information about these initiatives, visit https://bit.ly/BlockJustMercy.