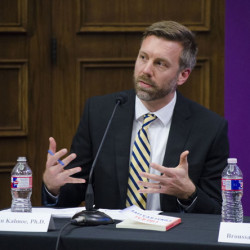 When: Friday, November 20, 2020
12:00 PM - 1:00 PM CT
Where: Online
Webcast Link
Audience: Faculty/Staff - Student - Public - Post Docs/Docs - Graduate Students
Contact: Erica Canavan (847) 491-7451

Group: Department of Political Science
Category: Academic, Lectures & Meetings, Global & Civic Engagement
Description:
Dr. Nathan Kalmoe will be presenting With Ballots & Bullets: Partisanship & Violence in the American Civil War (& Today).

What happens when ordinary American partisans are pushed to extremes? This timely talk on mass partisanship is drawn from elements of Dr. Kalmoe's new book about the American Civil War, plus snapshots from his next book with Dr. Lilliana Mason on violent partisanship today. The first combines newspaper content analysis, election returns, and geo-coded data for over 1 million Union soldiers to show the fundamental role partisanship played in mobilizing the war's supreme violence. The second leverages opinion surveys and experiments to uncover the modern breadth of violent American partisan views, including how election losses can spark violence and then cycles of retribution. The results dramatically expand our conception of what American partisans were and are capable of when the conflict between democracy and hegemony aligns with party.
Nathan Kalmoe is an associate professor of political communication at Louisiana State University for the Manship School of Mass Communication and Department of Political Science. His research focuses on contentious mass political behavior and democracy with psychology, communication, and history—especially mass partisanship & ideology.