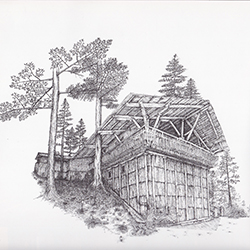 When: Wednesday, January 27, 2021
11:00 AM - 12:30 PM Central
Where: Online
Audience: Faculty/Staff - Student - Post Docs/Docs - Graduate Students
Contact: Mary Clare Meyer 847.491.3230

Group: Department of Art History
Category: Academic
Description:
"The Shifting Notions of National Identity in Nineteenth-Century American Architecture Debates"
In the past, architectural historians have been quick to interpret canonical nineteenth-century American architectural movements through the lens of an inclusive liberalism that embraces people of all colors, nationalities, and religious creeds. Yet the lack of Indigenous and nonwhite designers in the pantheon of nineteenth-century American architectural debates suggest another story: it suggests a building tradition that is constructed on an exclusively white definition of the citizen subject. This presentation traces the shifting definitions of whiteness that animated modern architectural debates as settler colonialism spread across the American frontier: from the nationalist ideologies of the Arts & Crafts movement to the notions of white settler culture enshrined in the writings and motifs of Chicago Style, Prairie Style, and East Bay Style architectures. Constructing a race conscious history of American architecture challenges us to acknowledge the whiteness that undergirds our historical canon while providing a critical vocabulary for identifying the shifting notions of whiteness that competed for dominance in the mid- to late-nineteenth century. 
Charles Davis is an assistant professor of architectural history and criticism at the University at Buffalo, SUNY. He is the author of Building Character: The Racial Politics of Modern Architectural Style and the co-editor of Race and Modern Architecture: A Critical History from the Enlightenment to the Present. 
Image: Bernard Maybeck, sketch of the Bohemian Grove Clubhouse, n.d., courtesy of the CED archives at UC Berkeley