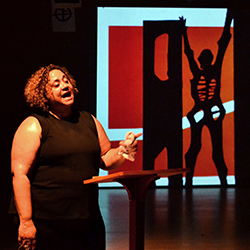 When: Wednesday, February 10, 2021
5:00 PM - 6:30 PM Central
Where: Online
Audience: Faculty/Staff - Student - Public - Post Docs/Docs - Graduate Students
Contact: Mary Clare Meyer 847.491.3230

Group: Department of Art History
Category: Academic
Description:
"Dreaming a People-First City:  Performing Fifth City's Lessons in Imagination, Scale, & Consensus Building"
Fifth City Revisited explores the history of a radical community experiment from the 1960s to the early 1990s in Garfield Park on Chicago's Westside. Tying together memory work, oral history, archival research, and urban planning, Fifth City Revisited considers how we create healthy communities and cities while also considering the scale at which we must do this work to grow and sustain it. In this talk, Meida McNeal will discuss her evolving understanding of Fifth City's impact crossing from personal memory, to analyzing her solo performance work, to its current application as a civic model informing a citywide planning initiative to reimagine Chicago through a community-centered approach.
Meida Teresa McNeal is Artistic and Managing Director of Honey Pot Performance. She received her PhD in Performance Studies from Northwestern University and her MFA in Choreography & Dance History from Ohio State University. Over the past two decades, she has produced numerous creative projects as both a solo artist and with Honey Pot Performance, with works performed in Illinois, Rhode Island, Ohio, California, and Trinidad. Positioning her work as an Independent Artist and Scholar at the intersection of performance studies, dance and critical ethnography, she has taught courses in dance, critical performance ethnography, and black diasporic cultural production at Northwestern University, Brown University, Governors State, and Columbia College Chicago. Meida also works with the Chicago Park District as Arts & Culture Manager supporting community arts partnerships, youth arts, cultural stewardship, and civic engagement initiatives across the city's parks and cultural centers. Whether creating new work, facilitating a workshop, building community partnerships and programs around shared public space, teaching, or writing, for Meida all roads lead to the merging of theory and practice into lived applications that cultivate dialogue, decolonize knowledge, and shift consciousness.
Performance photo credit: Andrew Clayton/ICA
Register here