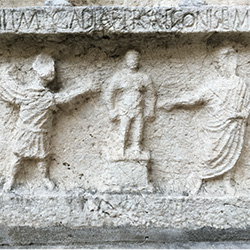 When: Wednesday, May 19, 2021
5:00 PM - 6:30 PM CT
Where: Online
Audience: Faculty/Staff - Student - Public - Post Docs/Docs - Graduate Students
Contact: Department of Art History (847) 491-3230

Group: Department of Art History
Category: Academic
Description:
Interactions of Slavery and Visual Culture in Ancient Rome
Northwestern University Department of Art History presents the Warnock Lecture Series
This lecture presents some findings and questions from Professor Trimble's book-in-progress, Seeing Roman Slaves, which explores the role of Roman art and visual culture in representing and enforcing Roman slavery. Perceptions and experiences of slavery operated through seeing, inspecting, being seen—for enslaved, freed, and free people. What people saw was crucial to how they understood and experienced slavery. Part of the violence of the institution hinged on the enforced visibility or invisibility of enslaved people; at the same time, dynamics of visibility were where social and visual boundaries might be blurred or even crossed. The most surprising finding of this project so far has been the clear evidence that at least some enslaved people negotiated their own conditions of visibility and did so as knowledgeable cultural actors.
Investigating the ways in which slavery shaped Roman visual culture poses methodological challenges: people's legal status was not always evident, either in everyday Roman life or in artworks. More productive is to explore a series of questions and consider the effects and implications of the answers. Who was represented—or not—in Roman art?  How were they represented, and in what actions or interactions? How were questions of bodily integrity or violation, labor or suffering handled? Where were the boundaries between person and thing? These questions are about images, but viewing and reception, too, were fundamentally shaped by slavery. Here, we can ask who had permission or even encouragement to look, linger, or touch, and who did not; how the gestures, postures, and physical ease of potential viewers varied; in what contexts and in whose presence viewing happened, and with what praise or punishment. The answers show that visual expressions of personhood, figuration, aesthetics, and embodiment were intertwined with the practices and assumptions of slavery.
Jennifer Trimble, Associate Professor of Classics, works on the visual and material culture of the Roman Empire, with interests in portraits and replication, the visual culture of Roman slavery, comparative urbanism, and ancient mapping. Trimble was co-director of the IRC-Oxford-Stanford excavations in the Roman Forum (now being prepared for publication), which focused on interactions of commercial, religious and monumental space. She co-directed Stanford's Digital Forma Urbis Romae Project, a collaboration between computer scientists and archaeologists to help reassemble a fragmentary ancient map of the city of Rome. Her book on Women and Visual Replication in Roman Imperial Art and Culture (Cambridge University Press, 2011) was about portrait statues whose bodies are all identical; in it, she explored the role of visual sameness in constructing public identity and in articulating empire and place. Trimble is currently at work on Seeing Roman Slaves, a monograph about the intersections of Roman visual culture and Roman slavery.  In 2020, Trimble became the new Editor-in-Chief of the Journal of Roman Archaeology.