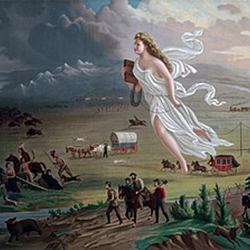 When: Tuesday, April 6, 2021
12:00 PM - 1:00 PM Central
Where: Online
Webcast Link
Audience: Faculty/Staff - Student - Public - Post Docs/Docs - Graduate Students
Contact: Dylan Peterson (847) 467-2770

Group: Buffett Institute for Global Affairs
Category: Global & Civic Engagement
Description:
Primarily focused on economic inequality, United Nations Sustainable Development Goal #10, "Reduced Inequalities," also aims to "empower and promote the social, economic, and political inclusion of all, irrespective of age, sex, disability, race, ethnicity, origin, religion, or economic or other status." Yet today's global inequities possess long legacies of systemically generated and sustained efforts to benefit the few to the serious detriment of the many, often the world's Black, Brown, and Indigenous communities. What historical movements created such drastic disparities? Which social structures continue to uphold or even exacerbate them? What myths of progress abound, and to what ends? In this panel, Northwestern University professors Doug Kiel, Simone Ispa-Landa, and Katrina Quisumbing King will discuss the imperialist, white supremacist heritage of - and persisting principles underlying - our existing realities and will highlight the sparks of possibility for future justice.
Simone Ispa-Landa is associate professor in Northwestern's School of Education and Social Policy, with a courtesy appointment in Sociology. She is also a fellow at Northwestern's Institute for Policy Research. Her scholarship concerns the sociology of education, race and gender, and punishment and stigma. She has published on school discipline and race and is working on a book, tentatively titled 'How Else is the Dean Going to Know that I Need Help with These Students?' Race and Teacher Sensemaking about Equity Initiatives in School Discipline.
Doug Kiel is a citizen of the Oneida Nation and assistant professor of history at Northwestern University. He studies Native American history, with particular interests in the Great Lakes region and twentieth-century Indigenous nation rebuilding. He is working on a book manuscript entitled Unsettling Territory: Oneida Indian Resurgence and Anti-Sovereignty Backlash. 
Katrina Quisumbing King is assistant professor of sociology at Northwestern. She studies racial classification and exclusion and is particularly interested in how state actors conceive of and make decisions around race and citizenship. Her research recenters empire as a key political formation. She is working on a book manuscript tentatively titled Fit to Rule: The Rise of U.S. Empire and the Racial Management of Filipinos, 1898-1946.
Free and open to the public. This webinar will be available through WebEx at this LINK. Please use the following passcode when accessing: 1234. The talk will begin at 12 p.m. CDT on Tuesday, April 6.
This webinar is part of the Northwestern Buffett Institute for Global Affairs' Building Sustainable Futures: Global Challenges and Possibilities series, which focuses on a different United Nations Sustainable Development Goal (UN SDG) each quarter with SDG 10: Reduced Inequalities being the focus of spring 2021.