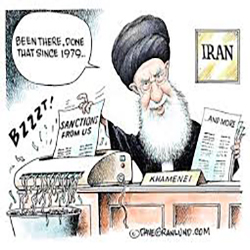 When: Tuesday, May 18, 2021
12:00 PM - 1:00 PM Central
Where: Online
Webcast Link
Audience: Faculty/Staff - Student - Public - Post Docs/Docs - Graduate Students
Contact: Dylan Peterson (847) 467-2770

Group: Buffett Institute for Global Affairs
Category: Global & Civic Engagement
Description:
This presentation tracks the relationship between the weaponization of the US dollar and the nuclearization of the Iranian Rial under the US sanction regime placed on Iran and its entire citizenry in some shape or form since the 1979 Iranian Revolution.
Drawing upon ethnographic research on commodity and currency trade as a method of sanction circumvention across Turkey and Iran landscapes before and after the "Iran nuclear deal," Crown Junior Chair in Middle East Studies and assistant professor of Anthropology and Middle East and North Africa (MENA) at Northwestern University, Emrah Yıldız argues for unthinking sanctions as a legitimate mechanism of international governance and draws out the implications of such unthinking for the immediate need to synchronize UN-level architectures and technologies of governance with the multi-polar realities of our irrefutably revealing Covid-19 era.
Emrah Yıldız is a socio-cultural anthropologist and Crown Junior Chair in Middle East Studies and Assistant Professor of Anthropology and Middle East and North Africa (MENA) Studies at Northwestern University. His research lies at the intersection of anthropology of pilgrimage and saint visitation in Islam, ethnography of currency and commodity trade in political economy and historiography and ethnography of borders and their states in the Middle East.  
Free and open to the public. This webinar will be available through WebEx at this LINK. Please use the following passcode when accessing: 1234. The talk will begin at 12 p.m. CDT on Tuesday, May 18.
This webinar is part of the Northwestern Buffett Institute for Global Affairs' Building Sustainable Futures: Global Challenges and Possibilities series. This and other spring 2021 webinars focused on UN SDG 10: Reduced Inequalities are co-sponsored by the Northwestern University Community for Human Rights (NUCHR).