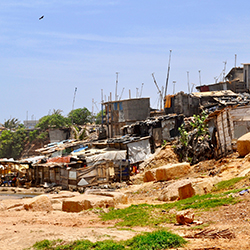 When: Tuesday, June 1, 2021
12:00 PM - 1:00 PM Central
Where: Online
Webcast Link
Audience: Faculty/Staff - Student - Public - Post Docs/Docs - Graduate Students
Contact: Dylan Peterson (847) 467-2770

Group: Buffett Institute for Global Affairs
Category: Global & Civic Engagement
Description:
Survey evidence from 16 developing countries shows widespread employment loss and declines in income and food security since the onset of the COVID-19 pandemic. These patterns are apparent in Ghana. In this Northwestern Buffett "Building Sustainable Futures: Global Challenges and Possibilities" webinar, Chris Udry, professor of Economics at Northwestern University, and Robert Darko Osei, vice dean for the School of Graduate Studies at the University of Ghana, discuss the effect on workers of the COVID lockdown policies implemented in urban areas, and the organization of a program of mobile money transfers to individuals in poor households.
They will discuss the dynamic effects of lockdowns on employment. They will show how substantial, randomized mobile money transfers affected social distancing, food security, and work patterns. Further, they will discuss how reliance on mobile money restricted the reach of the program to those with access to mobile phones but allowed for useful characterization of excluded populations.
Chris Udry: Robert E. and Emily King Professor of Economics at Northwestern University. He is a development economist whose research focuses on rural economic activity in Sub-Saharan Africa. His current research includes directing the first long-term, nationwide socioeconomic panel survey of individuals across Ghana (in collaboration with the University of Ghana); randomized evaluations of a variety of governmental and NGO-led development programs in West Africa; work on household organization, risk, information flows and agriculture in Mali and Ghana; and the role of psychological well-being on economic decision-making.
Robert Darko Osei: Associate Professor in the Institute of Statistical, Social and Economic Research (ISSER), University of Ghana, Legon, and also the Vice Dean for the School of Graduate Studies at the University of Ghana. Robert has published widely in edited volumes and top international journals. His main areas of research include evaluative poverty and rural research, macro and micro implications of fiscal policies, aid effectiveness and other economic development policy concerns. He is currently involved in a number of research projects in Ghana, Niger, Burkina Faso and Mali. 
Free and open to the public. This webinar will be available through WebEx at this LINK. Please use the following passcode when accessing: 1234. The talk will begin at 12 p.m. CDT on Tuesday, June 1.
This webinar is part of the Northwestern Buffett Institute for Global Affairs' Building Sustainable Futures: Global Challenges and Possibilities series. This and other spring 2021 webinars focused on UN SDG 10: Reduced Inequalities are co-sponsored by the Northwestern University Community for Human Rights (NUCHR).