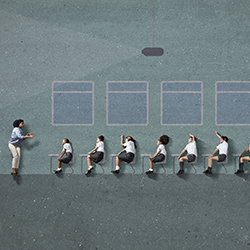 When: Tuesday, June 15, 2021
12:00 PM - 1:00 PM Central
Where: Online
Webcast Link
Audience: Faculty/Staff - Student - Public - Post Docs/Docs - Graduate Students
Contact: Dylan Peterson 847.467.2770

Group: Buffett Institute for Global Affairs
Category: Global & Civic Engagement
Description:
One's census tract continues to predict one's access to the learning experiences research shows are essential for developing the skills, identity and interests necessary to access and power STEM possible futures. While this reality is not new, the advancement in technology and data science coupled with America's growing awareness of the embeddedness of systemic racism has created opportunities for communities to reimagine the use of civic places, spaces, and policies to create opportunities for youth to engage in safe and accessible STEAM learning experience across home, school, and community.
In this Northwestern Buffet "Building Sustainable Futures: Global Challenges and Possibilities" webinar, learning scientist Nichole Pinkard and Chicago Medal of Honor Recipient Natasha Smith-Walker will share examples, frameworks based upon lessons learned in a multi-year collaboration to reimagine partnerships with the community and civic institutions to build pathways and on-roads to STEM in ways that connect to the community. Austin serves as the demonstration community leveraging community value holders (parks, cbos, schools, etc.)
Nichole Pinkard is Associate Professor in the School of Education and Social Policy and Faculty Director of the Office of Community Education Partnerships. She is the founder of Digital Youth Network (DYN) and L3, a social learning platform that connects youth's learning opportunities across the school, home, community, and beyond. Through collaborations with city agencies (e.g., YOUmedia with the Chicago Public Library and City of Learning with Chicago Mayor Rahm Emmanuel), Pinkard and DYN's work has ignited new models for reimagining, visualizing, and documenting learning across spaces through the creation of existence proofs in urban contexts.  Pinkard received a 2010 Common Sense Media Award for Outstanding Commitment to Creativity and Youth, the Jan Hawkins Award for Early Career Contributions to Humanistic Research and Scholarship in Learning Technologies, and an NSF Early CAREER Fellowship. She earned a Ph.D. in Learning Sciences from Northwestern.   
Natasha Smith-Walker is the executive director of Project Exploration. She brings over 20 years of experience in youth development and community engagement. Her work has centered on finding impactful and systemic approaches to out-of-school time learning that benefits children and youth.  Since her time at Project Explorations she has deepened STEM-related programming in communities on the south and west side of Chicago. Her work includes Project SYSTEMIC, an NSF INCLUDES project that sought to answer the question, "What barriers and challenges exist that impeded participation in STEM by youth in Austin?" She earned a BA from the University of Illinois at Chicago and lives in Chicago's Austin community.
Free and open to the public. This webinar will be available through WebEx at this LINK. Please use the following passcode when accessing: 1234. The talk will begin at 12 p.m. CDT on Tuesday, June 15.
This webinar is part of the Northwestern Buffett Institute for Global Affairs' Building Sustainable Futures: Global Challenges and Possibilities series. This and other spring 2021 webinars focused on UN SDG 10: Reduced Inequalities are co-sponsored by the Northwestern University Community for Human Rights (NUCHR).