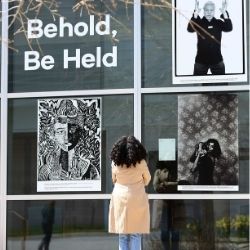 When: Thursday, August 5, 2021
All day
Where: Block Museum of Art, Mary and Leigh, 40 Arts Circle Drive, Evanston, IL 60208 map it
Audience: Faculty/Staff - Student - Public - Post Docs/Docs - Graduate Students
Cost: Free and open to all, Outdoors
Contact: Lindsay Bosch

Group: Block Museum Exhibitions
Co-Sponsor: Alice Kaplan Institute for the Humanities
Virginia Wadsworth Wirtz Center for the Performing Arts
Black Arts Consortium (BAC)

Category: Fine Arts
Description:
"And I know what it's like to behold and not be held."
– Moses Sumney, Lyrics from his song Plastic (2014)
In Fall 2020, as our galleries remained closed to visitors due to the pandemic, we challenged ourselves to think imaginatively about engaging visitors through our permanent collection. While the past year has altered so much in our lives, it has also highlighted how art remains a vital window into our feelings and experiences. Behold, Be Held uses the facades of The Block, the neighboring Ethel M. Barber Theater, and the building of our community partner Youth & Opportunity United (Y.O.U.) as an outdoor gallery.
Reproductions of artworks from the Block Museum collection invite visitors to reflect on how art holds us through moments of crisis. These works capture gestures that we may have taken for granted prior to the pandemic, but we have missed dearly. The selection of works was guided by themes of self-care, self-authorship, and community. It also explores how subtle moments with others prepare and carry us on our journeys. Within these works, people hold each other through life changes, create spaces of sustenance, and raise their hands to declare "I am still here." Behold, Be Held is a meditation and a prompt, asking: What are you most in need of right now?
Behold, Be Held is curated by the 2020–21 Block Museum of Art Interdisciplinary Graduate Fellow, Rikki Byrd (PhD candidate, African American Studies). It has been developed in partnership with The Leadership Project at Youth and Opportunity United (Y.O.U.) in Evanston, IL, with the participation of: Malik Agee, Cherie Animashaun, Saliha Ansari, Isabel Horek Gualtier, Michia Kenderick, Aaliyah Knox, Jocelyn Maldonado, Ciara Nicole Phillips-Gentle, McKenzie Royal, James Thoussaint, Mia Williams, Nia Williams. Generous support has been provided by the Northwestern Virginia Wadsworth Wirtz Center for the Performing Arts; the Black Arts Consortium; the Alice Kaplan Institute for the Humanities; and The Graduate School, Northwestern University.
#BeholdBeHeld