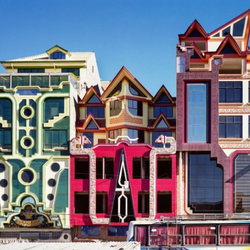 When: Monday, January 10, 2022
12:00 PM - 1:00 PM Central
Where: Online
Audience: Faculty/Staff - Student - Public - Post Docs/Docs - Graduate Students
Cost: Free
Contact: Danny Postel

Group: Latin American and Caribbean Studies
Co-Sponsor: Department of Spanish and Portuguese

Category: Global & Civic Engagement, Academic, Lectures & Meetings, Multicultural & Diversity
Description:
Register for the Zoom link:
https://bit.ly/Illuminations-gomez
Please join us for this conversation with Leila Gómez, Associate Professor of Spanish and Director of the Latin American Studies Center at the University of Colorado, Boulder, about her new book Impossible Domesticity: Travels in Mexico, published in the University of Pittsburgh Press series Illuminations: Cultural Formations of the Americas.
About the book
Travelers from Europe, North, and South America often perceive Mexico as a mythical place onto which they project their own cultures' desires, fears, and anxieties. Gómez argues that Mexico's role in these narratives was not passive and that the environment, peoples, ruins, political revolutions, and economy of Mexico were fundamental to the configuration of modern Western art and science. This book examines the images of Mexico and the ways they were contested by travelers of different national origins and trained in varied disciplines from the nineteenth to the twenty-first century. It starts with Alexander von Humboldt, the German naturalist whose fame sprang from his trip to Mexico and Latin America, and ends with Roberto Bolaño, the Chilean novelist whose work defines Mexico as an "oasis of horror." In between, there are archaeologists, photographers, war correspondents, educators, writers, and artists for whom the trip to Mexico represented a rite of passage, a turning point in their intellectual biographies, their scientific disciplines, and their artistic practices.
About the author
Leila Gómez is Director of the Latin American Studies Center and Associate Professor in the Department of Women and Gender Studies at the University of Colorado Boulder. Her research interests include Latin American and Indigenous literature, film and culture in the 19th and 20th centuries, with a focus on the Andes, Mexico, Paraguay and Argentina. Her previous books include Teaching Gender through Latin American, Spanish and Latino Literature and Culture (2015), Entre Borges y Conrad: Estética y territorio en William Henry Hudson (2012), Darwinism in Argentina (2011), and Iluminados y tránsfugas: Relatos de viajeros y ficciones nacionales en Argentina, Paraguay y Perú (2009).
This is the kickoff event for Illuminations: Conversations on Latin American Literary & Cultural Studies Today, a new series in which Jorge Coronado, Professor of modern Latin American and Andean literatures and cultures at Northwestern University and editor of the Illuminations series, talks (on Zoom) with Illuminations authors about their new books.
The series is co-hosted by the Latin American & Caribbean Studies Program and the Department of Spanish & Portuguese at Northwestern in partnership with the University of Pittsburgh Press.