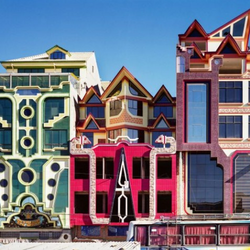 When: Thursday, February 3, 2022
12:30 PM - 1:30 PM Central
Where: Online
Audience: Faculty/Staff - Student - Public - Post Docs/Docs - Graduate Students
Cost: Free
Contact: Danny Postel

Group: Latin American and Caribbean Studies
Co-Sponsor: Department of Spanish and Portuguese

Category: Global & Civic Engagement, Academic, Lectures & Meetings, Multicultural & Diversity
Description:
Register to receive the Zoom link:
https://bit.ly/illuminations-merchant
Please join us for this conversation with Paul Merchant, Senior Lecturer in Latin American Film and Visual Culture at the University of Bristol, about his new book Remaking Home: Domestic Spaces in Argentine and Chilean Film, 2005-2015, published in the University of Pittsburgh Press series Illuminations: Cultural Formations of the Americas.
About the book
Houses, in the Argentine and Chilean films of the early twenty-first century, provide much more than a backdrop to on-screen drama. Nor are they simply refuges from political turmoil or spaces of oppression. In Remaking Home, Paul Merchant argues that domestic spaces are instead the medium through which new, fragile common identities are constructed. The varied documentary and fiction films analyzed here, which include an early work by Oscar winner Sebastián Lelio, use the domestic sphere as a laboratory in which to experiment with narrative, audiovisual techniques, and social configurations. Where previous scholarship has focused on the social fragmentation and political disillusionment visible in contemporary film, Remaking Home argues that in order to understand the political agency of contemporary cinema, it is necessary to move beyond deconstructive critical approaches to Latin American culture. In doing so, it expands the theoretical scope of studies in Latin American cinema by finding new points of contact between the cultural critique of Nelly Richard, the work of Bruno Latour, and theories of new materialism.
About the author
Paul Merchant is Senior Lecturer in Latin American Film and Visual Culture in the Department of Hispanic, Portuguese and Latin American Studies at the University of Bristol. He is interested in how cinema relates to other visual media, in the shifting critical frameworks of Latin American studies, and in the intersections between postcolonial theory and the environmental humanities. He is co-editor (with Lucy Bollington) of Latin American Culture and the Limits of the Human (2020), which analyses how discourses of humanism and posthumanism have operated in — and have been shaped by — a wide range of literary and visual cultures in the region.
This event is part of Illuminations: Conversations on Latin American Literary & Cultural Studies Today, a new series in which Jorge Coronado, Professor of modern Latin American and Andean literatures and cultures at Northwestern University and editor of the Illuminations series, talks (on Zoom) with Illuminations authors about their new books.
The series is co-hosted by the Latin American & Caribbean Studies Program and the Department of Spanish & Portuguese at Northwestern in partnership with the University of Pittsburgh Press.