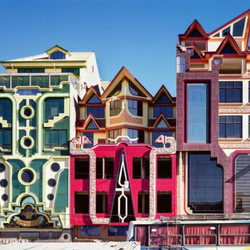 When: Thursday, March 3, 2022
12:30 PM - 1:30 PM Central
Audience: Faculty/Staff - Student - Public - Post Docs/Docs - Graduate Students
Cost: Free
Contact: Danny Postel

Group: Latin American and Caribbean Studies
Co-Sponsor: Department of Spanish and Portuguese

Category: Global & Civic Engagement, Academic, Lectures & Meetings, Multicultural & Diversity
Description:
Register to receive the Zoom link:
https://bit.ly/illuminations-long
Please join us for this conversation with Ryan Long, Associate Professor of Spanish and comparative literature at the University of Maryland, College Park, about his new book Queer Exposures: Sexuality and Photography in Roberto Bolaño's Fiction and Poetry, published in the University of Pittsburgh Press series Illuminations: Cultural Formations of the Americas.
About the book
Roberto Bolaño (1953-2003) stands out among recent Latin American writers because of his unique combination of critical acclaim, popularity, and literary significance. In Queer Exposures, Ryan Long analyzes two central but understudied topics in Bolaño's fiction and poetry: sexuality and photography. Moving beyond a consideration of how his texts represent these topics, Long demonstrates that, when considered in tandem, they form the basis for a new innovative and critical approach. Emphasizing the processes of exposure associated with photography and sexuality, especially queer sexuality, provides readers and scholars with a versatile method for comprehending Bolaño's constellation of texts. With close readings of a broad range of texts, from poetry written just after his arrival in Spain in the late 1970s to his posthumously published novels, Long concludes that an emphasis on sexuality and photography is essential for understanding how Bolaño's texts function in dialogue with one another to elucidate and critique the interrelations of writing, visual representation, and power.
About the author
Ryan Long is Associate Professor of Spanish and comparative literature at the University of Maryland, College Park. He is the author of Queer Exposures: Sexuality and Photography in the Fiction and Poetry of Roberto Bolaño (2021) and Fictions of Totality: The Mexican Novel, 1968, and the National-Popular State (2008). He is currently writing a book titled "The Poetics of Place and Displacement: Hannes Meyer and Postrevolutionary Mexico." He also edits the Mexican prose fiction section of the Handbook of Latin American Studies.
This event is part of Illuminations: Conversations on Latin American Literary & Cultural Studies Today, a new series in which Jorge Coronado, Professor of modern Latin American and Andean literatures and cultures at Northwestern University and editor of the Illuminations series, talks (on Zoom) with Illuminations authors about their new books.
The series is co-hosted by the Latin American & Caribbean Studies Program and the Department of Spanish & Portuguese at Northwestern in partnership with the University of Pittsburgh Press.