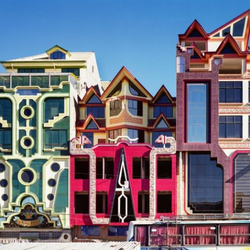 When: Thursday, April 7, 2022
12:30 PM - 1:30 PM Central
Where: Online
Audience: Faculty/Staff - Student - Public - Post Docs/Docs - Graduate Students
Cost: Free
Contact: Danny Postel

Group: Latin American and Caribbean Studies
Co-Sponsor: Department of Spanish and Portuguese

Category: Global & Civic Engagement, Academic, Lectures & Meetings, Multicultural & Diversity
Description:
Register to receive the Zoom link:
https://bit.ly/illuminations-open-invitation
Please join us for this conversation with Freya Schiwy, Professor of Media and Cultural Studies at the University of California, Riverside, about her new book The Open Invitation: Activist Video, Mexico, and the Politics of Affect, published in the University of Pittsburgh Press series Illuminations: Cultural Formations of the Americas.
About the book
The Open Invitation explores the relationship between prefigurative politics and activist video. Schiwy analyzes activist videos from the 2006 uprising in Oaxaca, the Zapatista's Other Campaign, as well as collaborative and community video from the Yucatán. Schiwy argues that transnational activist videos and community videos in indigenous languages reveal collaborations and that their political impact cannot be grasped through the concept of the public sphere. Instead, she places these videos in dialogue with recent efforts to understand the political with communality, a mode of governance articulated in indigenous struggles for autonomy, and with cinematic politics of affect.
About the author
Freya Schiwy is Professor of Media and Cultural Studies at the University of California, Riverside and serves on the editorial board of the Journal for Latin American Cultural Studies (JLACS). Her research and teaching have straddled the fields of Latin American cultural and film studies and the interdisciplinary field of indigenous media studies. Her first book, Indianizing Film: Decolonization, the Andes, and the Question of Technology (2009), centers on the analysis of collaborative community fiction and documentary videos in indigenous languages made in the Andean-Amazonian region, primarily in Bolivia. Her current research project explores how collaborative and indigenous video art and activism in Chile and Mexico conceptualize and make apprehensible (visible, felt) the desire for environmental justice in the context of what has been called the anthropocene or capitalocene.
This event is part of Illuminations: Conversations on Latin American Literary & Cultural Studies Today, a new series in which Jorge Coronado, Professor of modern Latin American and Andean literatures and cultures at Northwestern University and editor of the Illuminations series, talks (on Zoom) with Illuminations authors about their new books.
The series is co-hosted by the Latin American & Caribbean Studies Program and the Department of Spanish & Portuguese at Northwestern in partnership with the University of Pittsburgh Press.