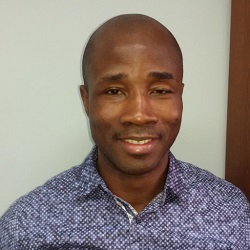 When: Friday, May 20, 2022
2:00 PM - 4:00 PM Central
Where: Scott Hall, 212, 601 University Place, Evanston, IL 60208 map it
Audience: Faculty/Staff - Student - Post Docs/Docs - Graduate Students
Contact: Stephen Monteiro (847) 491-7451

Group: Department of Political Science
Category: Academic, Lectures & Meetings, Global & Civic Engagement
Description:
Please join the International Relations Speaker Series as they host Dr. Mohamed Sesay, Assistant Professor in the Department of Social Science at York University. Dr. Mohamed Sesay is an Assistant Professor and Coordinator of the African Studies Program in the Department of Social Science at York University. He is also a UKRI GCRF Visiting Fellow at the LSE Centre for Women, Peace and Security. Specializing in International Relations and Comparative Politics, his research and teaching interests are in development, transitional justice, international criminal justice, rule of law, customary justice, peacebuilding, and post-conflict reconstruction particularly in sub-Saharan Africa. He is co-investigator for a UKRI GCRF project titled Land Policy, Gender Justice, and Dual Legal Systems. Mohamed Sesay is the author of Domination through Law: The Internationalization of Legal Norms in Postcolonial Africa. His works have also been published in several peer-reviewed journals including International Studies Perspectives, Cooperation & Conflict, African Affairs, and European Journal of International Security, and Third World Quarterly.
ABOUT THE 2021-2022 INTERNATIONAL RELATIONS SPEAKER SERIES
In "How I Wrote [Title Here]" we invite scholars to campus to discuss how they turned a research project into a book. Each session features a writer and their recent book. Some are first-time authors, navigating the process from dissertation to publication. Others are well-established scholars with deep experience and diverse perspectives. We will talk about the choices the authors made in research, presentation, and marketing, and the choices that were made for them by circumstances, publishers, and reviewers. The series aims to share stories about the making of scholarly books. We invite readers behind the scene to hear the story of how some of the best new books in International Relations were made.