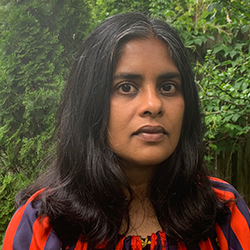 When: Thursday, May 12, 2022
1:00 PM - 2:00 PM Central
Where: University Library, Forum Room (2nd Floor), 1970 Campus Drive, Evanston, IL 60208 map it
Audience: Faculty/Staff - Student - Public - Post Docs/Docs - Graduate Students
Contact: Rebecca Shereikis (847) 491-2598

Group: Institute for the Study of Islamic Thought in Africa (ISITA)
Category: Academic, Lectures & Meetings, Religious, Multicultural & Diversity, Global & Civic Engagement
Description:
This is a hybrid event.
No registration needed to attend in person. 
Location: Forum Room (2nd Floor), University Library, Evanston Campus
Register here to attend by Zoom.
An Uneasy Embrace: Africans, Indians, and the Ahmadiyya Movement in Islam
Join ISITA for a talk by Shobana Shankar (history, Stony Brook University).
Abstract

This talk is based upon Shankar's recent book, An Uneasy Embrace: Africa, India, and the Spectre of Race (Oxford University Press, 2021), which tackles the controversial question of how Africans and Indians make and unmake their differences. An intellectual history of the entwined relationship between Blacks and Indians, the book argues that--notwithstanding moments of common struggle--the relationship seethes with conflicts that reveal how race reverberates throughout the modern world. This talk will focus on the Indian Ahmadiyya missionary movement, which adopted Pan-Islamic and Pan African politics in the early twentieth century.
About the Speaker
Shobana Shankar is professor of history at Stony Brook University. She is the author of Who Shall Enter Paradise? Christian Origins in Muslim Northern Nigeria, c. 1890–1975 (Ohio University Press, 2014); and co-editor of Religions on the Move! (Brill, 2013) and Transforming Africa's Religious Landscapes: The Sudan Interior Mission (SIM), Past and Present (Africa World Press, 2018).