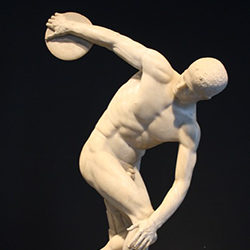 When: Friday, October 14, 2022
3:30 PM - 5:00 PM CT
Where: Kresge Hall, 1515, 1880 Campus Drive, Evanston, IL 60208 map it
Audience: Faculty/Staff - Student - Public - Post Docs/Docs - Graduate Students
Contact: Elizabeth Upenieks (847) 491-7597

Group: Department of Art History
Category: Academic, Fine Arts
Description:
Much has been written about the interest in Greek and Roman antiquity and its appropriation under National Socialism, but among the questions this abundant scholarship have not asked are: do the rhetoric, propaganda, and supposed Nazi preference for the classical aesthetic match what we know about the practice of collecting classical antiquities, both among the Nazi elite and for museums in Germany and the wider Reich? And how and where was classical art exhibited during this period? 
Professor Romano will discuss both public museum exhibitions and displays of classical antiquities in the private spaces of Adolf Hitler and Hermann Göring, highlighting the use of copies of classical works of art and the promotion of Neoclassical art by approved Nazi artists. Finally, she will call attention to some recent museum exhibitions that reveal the Nazi history of particular works of classical antiquity.
Irene Bald Romano is Professor of Art History and Anthropology, and Curator of Mediterranean Archaeology at the Arizona State Museum, University of Arizona.
Add to Calendar