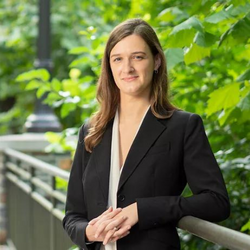 When: Friday, March 31, 2023
12:00 PM - 1:30 PM CT
Where: Scott Hall, 212, 601 University Place, Evanston, IL 60208 map it
Audience: Faculty/Staff - Student - Graduate Students
Contact: Ariel Sowers (847) 491-7454

Group: Department of Political Science
Category: Academic
Description:
Please join the International Relations Speaker Series as they host Rachel Myrick, Assistant Professor of Political Science at Duke University.
Abstract: When is a state's reputation "transferable" across entirely separate international crises? This project links academic debates about reputation and resolve in international politics to a contested policy debate about U.S. response to Russian aggression in Ukraine. We explore whether the U.S. government's response to an ongoing conflict—the Russian invasion of Ukraine—impacts how the Chinese public assesses China's relationship with Taiwan. We propose a theory of Transferability of Reputation (ToR) consisting of three assumptions. First, a defender's response to a crisis must lead a new potential challenger to update their assessment of the defender's reputation (reputation formation). Second, the new challenger must see the current crisis as highly comparable to a future crisis (situational comparability). Third, the new challenger must change its preferences in anticipation of the defender's actions (adversary-oriented decision-making). In a survey experiment fielded in China in March 2022, we frame the initial U.S. response to Russian aggression as either "weak" or "strong." A "strong" frame improves the U.S. government's general reputation for resolve. However, it only has a small impact on how the Chinese public anticipates the U.S. would respond in a future crisis with Taiwan, and no impact on public opinion about China's policy towards Taiwan. We show that respondents have relatively fixed attitudes towards Taiwan, and they view the Russia-Ukraine crisis as dissimilar to a future hypothetical crisis between China and Taiwan. Our results demonstrate the limitations of claims about the transferability of a state's reputation. These findings are important since arguments about U.S. credibility and reputation have historically been invoked to justify use of force in foreign affairs.
Dr. Rachel Myrick is the Douglas and Ellen Lowey Assistant Professor of Political Science at Duke University. Her research explores how partisan polarization affects foreign policymaking in democratic states, with an emphasis on U.S. national security policy. More generally, Dr. Myrick is interested in the interplay between domestic and international politics in matters of security and conflict.