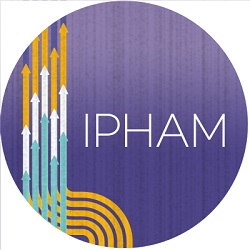 When: Thursday, October 13, 2022
12:00 PM - 1:00 PM CT
Where: Robert H Lurie Medical Research Center, Baldwin Auditorium, 303 E. Superior, Chicago, IL 60611 map it
Audience: Faculty/Staff - Student - Public - Post Docs/Docs - Graduate Students
Contact: Institute for Public Health and Medicine (IPHAM)

Group: Institute for Public Health and Medicine (IPHAM)
Category: Lectures & Meetings
Description:
**HYBRID EVENT: This seminar is offered as a HYBRID event: join us IN-PERSON or ONLINE. Please register regardless and indicate your intended mode. The in-person event will be held in Baldwin Auditorium of the Lurie Medical Research Building at 303 E. Superior; Chicago. Boxed lunch will be provided for in person attendees.**
Ideal cardiovascular health (CVH), is associated with a multitude of benefits including a decreased heart disease, as well as a longer lifespan and healthspan. However, already by age 8 over 20% of children have lost ideal CVH. These early losses in CVH begin the accumulation of cardiovascular risk early in life and translate to a greater burden of disease later in life. This talk will focus on our current understanding trajectories of cardiovascular health starting at birth and will highlight innovative new projects addressing these issues.
Guest:
Norrina Allen, PhD, MPH, FAHA
Quentin D. Young Professor of Health Policy
Associate Professor of Epidemiology and Pediatrics Department of Preventive Medicine
Director, IPHAM Center for Epidemiology and Population Health
Co-Director of the Data Science Hub, Institute for Innovations in Developmental Sciences (DevSci)
Northwestern University Feinberg School of Medicine
As a cardiovascular epidemiologist, Dr. Allen's research is committed to understanding cardiovascular health (CVH) particularly blood pressure from a life course perspective. Her three main areas of scientific focus are 1) longitudinal trajectories of CVH starting in childhood, 2) blood pressure in young adults and 3) identification of high-risk individuals (i.e. risk prediction). Within each of these areas she has led projects developing innovative methodologies and leveraging novel data resources to answer clinically meaningful research questions aimed at reducing the burden of cardiovascular disease in the population.