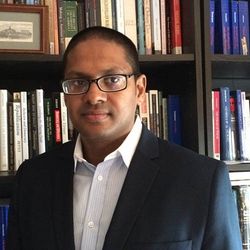 When: Monday, January 9, 2023
12:30 PM - 2:00 PM CT
Where: Scott Hall, 212, 601 University Place, Evanston, IL 60208 map it
Audience: Faculty/Staff - Graduate Students
Contact: Ariel Sowers (847) 491-7454

Group: Department of Political Science
Category: Academic
Description:
Please join the Political Theory Colloquium as they host Dr. Desmond Jogmohan from the University of California, Berkeley. 
This chapter reconstructs Martin Delany's critique of political injustice. In doing so, it recovers his implicit conception of political equality. It begins with his political formation. Next, the chapter argues that the Colored Conventions Movement that repurposed the Declaration of Independence as a regulative ideal republican in substance and color-blind in spirit to contest disenfranchisement efforts by northern states deeply shaped Delany's critique of political injustice. But Delany went further. He argued that the redemptive republicanism of the movement risked venerating a past that never existed and reducing the ideal of political equality to mere suffrage. Delany countered that citizenship has always been graded. Black northerners have suffrage without political equality because the latter also requires the right to seek office, eligibility for inclusion in the ruling element. Delany further concluded that racial discourses that support and justify political exclusion effect social injuries that prove more lasting.
Dr. Desmond Jagmohan is an Assistant Professor of Political Science at the University of California, Berkeley. Like many Berkeley undergraduates, he has taken a circuitous path to academic life. Dr. Jagmohan was born and raised in Guyana. After migrating to Chicago at age sixteen, he served in the U. S. military before and during college. He specialize in the history of African American and American political thought, and hi current research and teaching interests include: the politics of deception; theories of property, slavery, and domination; and the ideas of nationalism and self-determination in black political thought. Dr. Jagmohan is completing his first book, Dark Virtues: Booker T. Washington's Tragic Realism, which studies the politics of deception under Jim Crow.
Registration is not required for in-person attendence.