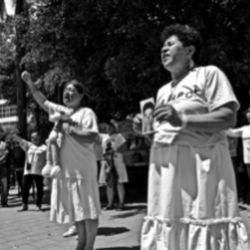 When: Monday, November 14, 2022
12:00 PM - 1:30 PM Central
Where: Crowe Hall, 1-132, 1860 Campus Drive, Evanston, IL 60208 map it
Audience: Faculty/Staff - Student - Public - Post Docs/Docs - Graduate Students
Cost: FREE
Contact: Tiffany Williams-Cobleigh (847) 491-7980

Group: Latin American and Caribbean Studies
Co-Sponsor: Department of Spanish and Portuguese
Alice Kaplan Institute for the Humanities

Category: Academic
Description:
Truth Commission Dialogues Series | Colombia: Truth, Justice and Reparation
¿Quién dio la orden? / Who gave the order?
A Conversation with Mothers of Victims of State Violence in Colombia
MAFAPO, the association of Mothers of Victims of the "False Positives," was created in 2010 to denounce the murders of more than six thousand civilian young men by the Colombian army to report them as guerrillas killed in combat. They call for the truth about the commanders responsible for the murders, the localization of many of the victims' remains, as well as guarantees of justice, reparation, and non-repetition by the Colombian State. MAFAPO is currently on a World Tour to spread the word about the case. Join us in a conversation with Jacqueline Castillo, one of MAFAPO leaders, in which we will talk about their activism to expose the state's responsibility on these crimes, as well as their perspective on the Colombian transitional justice tribunal that is judging those responsible for the crimes.
This event will be a hybrid event. Click here to join zoom meeting: https://northwestern.zoom.us/j/94200828463
Cosponsors: Department of Spanish and Portuguese, Department of Performance Studies, Department of Theater, Program in Dance, Department of History, Chabraja Center for Historical Studies, Alice Kaplan Institute for the Humanities, Humanities Council, Andean Cultures and Histories