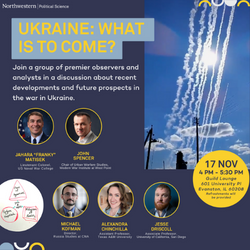 When: Thursday, November 17, 2022
4:00 PM - 5:30 PM CT
Where: Scott Hall, Guild Lounge, 601 University Place, Evanston, IL 60208 map it
Audience: Faculty/Staff - Student - Graduate Students
Contact: Ariel Sowers (847) 491-7454

Group: Department of Political Science
Category: Academic
Description:
Join a group of premier observers and analysts in a discussion about recent developments and future prospects in the war in Ukraine. This is a hybrid event.
Professor Will Reno is a Professor and Department Chair at the Department of Political Science at Northwestern University. He has conducted research on the politics of violence and state collapse in Sub-Saharan Africa and the Middle East. He is the author of three books. His first book, Corruption and State Politics in Sierra Leone (Cambridge, 1995) is based upon research in Sierra Leone in the early 1990s and traces the historical development of a system of personal rule constructed behind the facade of formal statehood. Will's second book, Warlord Politics and African States (Lynne Rienner, 1999), identifies processes of state collapse. Will's third book, Warfare in Independent Africa (Cambridge, 2011), explains why rebels who opposed state power in wars of de-colonization and struggles against apartheid appear to have been more cohesive and programmatically focused than many rebels closer to our own time. These and other works inform Reno's current research on the politics of foreign assistance to security forces in very weak states, how patronage-based regimes that are reluctant to rely on their own armed forces wage counterinsurgency campaigns, and supposedly a project on the impacts of surveillance technologies on the exercise of authority in states that have very weak institutional capacities.... when he is not called to his duties as Head of the Department! Prior to that destabilizing event in 2019, he was a non-resident Fellow at the Modern War INstitute of the US Military Academy (West Point), served as Director of the Program of African Studies research center (2012-2018) and has eight years of service as the department's graduate director over various terms since 2006.
Jahara "Franky" Matisek is an active duty officer in the US Air Force, currently serving as an assistant professor in the Department of Military and Strategic Studies at the US Air Force Academy. He is a former C-17 pilot with over 2,000 hours of flight time, to include over 700 hours of combat time, and was a T-6 Instructor Pilot at the prestigious Euro-NATO Joint Jet Pilot program. Franky has a BS from the United States Air Force Academy, an MPA from the University of Oklahoma, an MS from Troy University, and a Graduate Certificate in African Studies and PhD in Political Science from Northwestern University. His current research projects explore the impact of technology on future warfare, security force assistance, hybrid warfare, and the way weak states create effective militaries. He is a contributing editor at Over the Horizon: Multi-Domain Operations & Strategies and has published in the Journal of Strategic Studies, Defense & Security Analysis, Small Wars Journal, Civil Wars, The Strategy Bridge, The National Interest, and many other outlets on the topic of military affairs.
John W. Spencer currently serves as the chair of urban warfare studies at the Modern War Institute, codirector of the Urban Warfare Project, and host of the Urban Warfare Project Podcast. He currently serves as a colonel in the California State Guard with assignment to the 40th Infantry Division, California Army National Guard as the director of urban warfare training. His research focuses on military operations in dense urban areas, megacities, urban and subterranean warfare. He is an internationally recognized subject matter expert in urban warfare that regularly consults for United States Army Forces Command units, Training and Doctrine Command, Defense Advanced Research Projects Agency, the United Nations, and many others military and national security organizations.
Jesse Driscoll is an associate professor of political science and serves as chair of the Global Leadership Institute at the School. He is an area specialist in Central Asia, the Caucasus and the Russian-speaking world. His first book, Warlords and Coalition Politics in Post-Soviet States (2015) is published in the Cambridge Studies on Comparative Politics series. The book maps the processes by which well-functioning domestic hierarchies emerged after relatively short periods of anarchic violence in Georgia and Tajikistan. Driscoll argues that when a state has failed, and promises by the nearby great power (in this case Russia) to provide security guarantees are not credible, policy-makers would do well consider state-building as a complex coalition formation process by local violence entrepreneurs (warlords).
Michael Kofman serves as Research Program Director in the Russia Studies Program at CNA and as a Fellow at the Kennan Institute, Woodrow Wilson International Center in Washington, DC. His research focuses on the Russia and the former Soviet Union, specializing in Russian armed forces, military thought, capabilities, and strategy. Previously, he served as a Program Manager and subject matter expert at National Defense University, advising senior military and government officials on issues in Russia and Eurasia. Mr. Kofman is also a Senior Editor at War on the Rocks, where he regularly authors articles on strategy, the Russian military, Russian decision-making, and related foreign policy issues. He runs a personal blog on the Russian armed forces.
Alexandra Chinchilla joined the Department of International Affairs as an Assistant Professor in the fall of 2022. She was previously a Rosenwald Fellow in U.S. Foreign Policy and International Security and Niehaus Postdoctoral Fellow at The John Sloan Dickey Center for International Understanding at Dartmouth College. She received her Ph.D. in Political Science from the University of Chicago in 2021. Dr. Chinchilla's research focuses on international security, with a regional interest in Russia and Eastern Europe. In her book project and related articles, she examines how powerful states use security assistance tools, like military training and advising, and when these tools succeed in influencing other militaries. Her dissertation on this topic won an honorable mention for Best Dissertation from the American Political Science Association's International Collaboration section. Dr. Chinchilla's other research projects examine proxy war, political violence, and the effects of security cooperation on democracy, human rights, and civil-military relations in recipient countries. Her work combines methods from political economy with qualitative research based on archival work and original interviews.