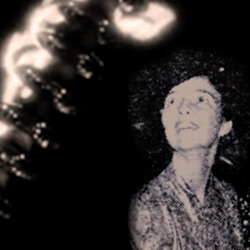 When: Tuesday, February 7, 2023
6:00 PM - 7:15 PM Central
Audience: Faculty/Staff - Student - Public - Post Docs/Docs - Graduate Students
Cost: Free! Public Welcome
Contact: Jill Mannor (847) 467-3970

Group: Alice Kaplan Institute for the Humanities
Co-Sponsor: Department of Art History

Category: Fine Arts
Description:
Sarah Kanouse is the Winter 2023 Artist in Residence of the Kaplan Humanities Institute and Department of Art History.
MY ELECTRIC GENEALOGY - Sarah Kanouse
My Electric Genealogy is a 75-minute, auto-ethnographic lecture-performance that weaves together live narration, choreographed movement, documentary video, and sound to address the climate justice ramifications of the electrical grid my grandfather helped to design and build.
For nearly forty years, Ed Kanouse designed, planned, and supervised the spider-vein network of lines connecting Los Angeles to its distant sources of electric power. He made a second family of the grid and its substations, converter stations, and interties, photographing these monuments of the modern everyday with one foot in the aesthetic and another in the techno-scientific sublime. When he died, he left behind boxes of snapshots that mixed birthday parties and family Christmases with portraits of power plants and transmission towers. Years later, I learned his legacy also included some of the most polluting fossil fuel infrastructure in the country—mostly located on Navajo land. Both aesthetically and politically, then, his vision of progress was rooted in modernist models of extraction, centralization, and consumption that are both highly racialized and gendered. Any just transition to a post-carbon society demands not only an overhaul of the electric grid but also the underlying values and assumptions that produced it. Taking up Donna Haraway's call to "make oddkin," My Electric Genealogy proceeds from an imaginative re-reading of my family tree, refiguring as relations both the electrical infrastructure of Los Angeles and the desert ecologies, organisms, and human histories it connects. Weaving together episodes of my grandfather's life, anxious fantasies about my child's climate-challenged future, and stories of resistance and resilience from the front lines of centuries of extractivism, My Electric Genealogy is an essayistic, auto-ethnographic working-through of this personal and collective inheritance.