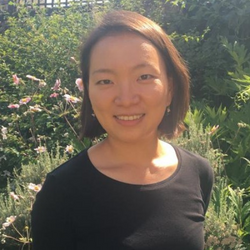 When: Friday, March 31, 2023
12:00 PM - 1:15 PM CT
Where: Scott Hall, Ripton 201, 601 University Place, Evanston, IL 60208 map it
Audience: Faculty/Staff - Student
Contact: Ariel Sowers (847) 491-7454

Group: Department of Political Science
Category: Academic
Description:
Please join the American Politics Workshop as they host Jae-Hee Jung, Assistant Professor in the Department of Political Science at the University of Houston. 
Abstract: Political parties often use moral argumentation in their messages to voters. What role does moral rhetoric play in party competition? This book explores this overarching question in three parts. First, it starts by examining what moral rhetoric looks like. Using text analyses of party manifestos from six English-speaking democracies, I show variation in levels and types of moral rhetoric usage across parties, issue domains, and ideologies. The second part of the book investigates what effects, if any, moral rhetoric has on voters. I theorize that moral rhetoric is likely to be better at mobilization than persuasion and test the expectations using observational and experimental survey data in the British context. Results are overall consistent with theory, but they also reveal clear limits to the mobilizing potential of moral rhetoric and that moral rhetoric can be more persuasive than one might expect. Lastly, the book departs from the electoral angle and examines moral rhetoric as a form of moral representation. I theorize that moral rhetoric has representational significance for many voters. Original survey data from six Western democracies show that broad groups of the electorate want to see morality in politics and that at times voters want moral argumentation even from parties they do not support. Overall, the book provides a comprehensive understanding of the landscape, electoral functions, and representational significance of moral rhetoric in politics.
Jae-Hee Jung is an Assistant Professor in the Department of Political Science at the University of Houston. Jung's research interests are in comparative party politics, political behavior, and political psychology. Jung studies party messages, voter attitudes, and voter behavior in Western democracies. Jung is particularly interested in understanding how morality works in party competition and voter psychology. But Jung also explores other questions related to how the informational environment influences the public. Jung received a PhD from the Department of Political Science at Washington University in St. Louis. Before graduate school, Jung studied at Underwood International College of Yonsei University in Seoul, South Korea. Jung received a BA in Political Science and International Relations with highest honors. Previously, Jung was Postdoctoral Fellow in Survey Research at the Blavatnik School of Government and Non-Stipendiary Research Fellow at Nuffield College at the University of Oxford.