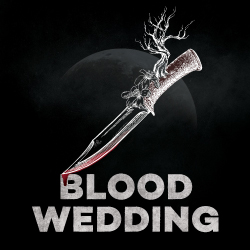 When: Saturday, January 28, 2023
7:30 PM - 9:00 PM Central
Where: Wirtz Center for the Performing Arts, Josephine Louis Theater, 1949 Campus Drive; 10-30 Arts Circle Drive, Evanston, IL 60208 map it
Audience: Faculty/Staff - Student - Public - Post Docs/Docs - Graduate Students
Cost: Ticket Pricing

General Public $25
Senior Citizens $22
NU Faculty Staff $20
Full-Time Students $10
Full-Time NU Students $6 in advance, $10 at the door
A per ticket service charge will be added to all online ($3 per ticket), phone ($2 per ticket)
Contact: Wirtz Center (847) 491-7282

Group: Virginia Wadsworth Wirtz Center for the Performing Arts
Category: Fine Arts
Description:
By Federico Garcia Lorca
Translated by Caridad Svich
Directed by Ismael Lara, Jr.
When a young bride-to-be receives a visit from a former paramour on her wedding day, a family blood feud threatens the celebration and sparks a deadly dance of love and deception, family and revenge, beauty, and betrayal. This contemporary translation of Federico Garcia Lorca's pulsing, lyrical Blood Wedding is a seductive tale of passion and vendetta set in the Spanish countryside, capturing the inevitable power of individual desire over the stifling demands of familial obligation. 
Jan. 27 – Feb. 5, 2023
Friday, 1/27 7:30 p.m.
Saturday, 1/28 7:30 p.m.
Sunday, 1/29 2 p.m.
Thursday, 2/2 7:30 p.m.
Friday, 2/3 7:30 p.m.
Saturday, 2/4 7:30 p.m.
Sunday, 2/5 2 p.m.
Josephine Louis Theater
20 Arts Circle Drive
Ticket Pricing
General Public $25
Senior Citizens $22
NU Faculty Staff $20
Full-Time Students $10
Full-Time NU Students $6 in advance, $10 at the door
A per ticket service charge will be added to all online ($3 per ticket), phone ($2 per ticket)
>> Purchase Tickets
Health and Safety Guidelines